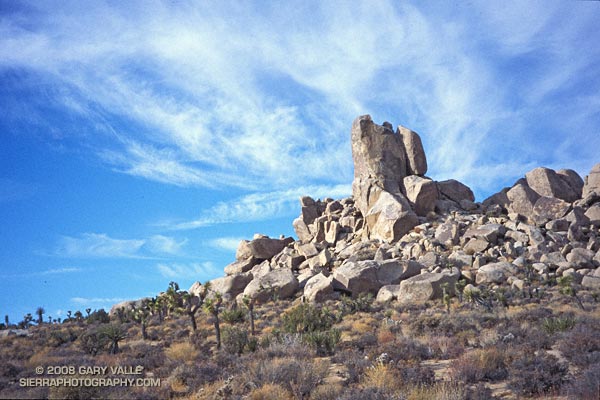 Part of the appeal of climbing at Joshua Tree National Park is its vastness.
There are many excellent, and often busy, roadside climbs, but there are also remote areas such as The Galapagos and Queen Mountain that see far less activity. If you like to explore, and can get by without route topos and beta, these and other secluded areas of the Park offer a wilderness climbing experience of the highest grade.
The adventure isn't just in the climbing. On a Winter-shortened day it can be a real challenge just to get into an area, much less locate a particular route on a particular formation. Even if you're more or less in the right place, a targeted route might be difficult to find — perhaps hidden in a corridor, or on a nearby group of rocks.
And there can be many distractions along the way. It's not unusual to stumble onto a "not in the guidebook" route — maybe a stellar face or super-clean finger or hand crack — that has to be climbed. Of unknown origin and difficulty, such routes are untarnished by preconceptions, and have been among the most rewarding I've done.
Inevitably, the shadows will be growing long and the temps cool, as you debate whether to try and get in another climb. There is still the minor matter of getting back to the car.