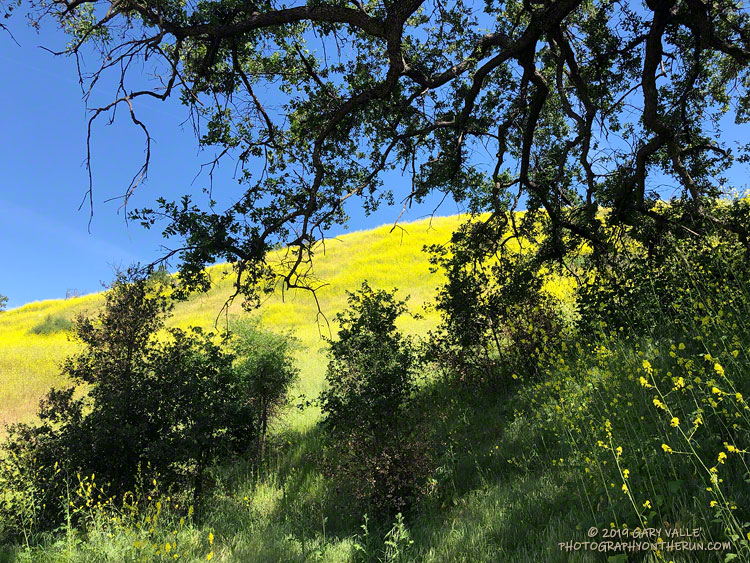 One day while running at Ahmanson Ranch, I was admiring the stately limbs of a large valley oak, and noticed that along the margin of the canopy were several sapling oaks. As I continued my run, I found that only a few other valley oaks hosted a brood of young trees.
That oaks would sprout on the margin of the canopy made sense. There is an abundance of acorns at the ends of the limbs. It is also where water drips from the oak's leaves on foggy days or when there is light rain or drizzle. The mix of sun and shade on the edge of the canopy is the perfect place for a young oak to thrive.
The surprise came when I took a closer look at the young trees. Most were valley oaks — the same as the shepherding tree — but in some cases the young trees were coast live oaks! And sometimes there was no obvious parent coast live oak nearby.
Of course, there are plenty of coast live oaks at Ahmanson and several ways for their acorns to find their way under a valley oak. Birds and squirrels love to stash acorns, and gravity is good at moving round things downhill.
Time is at a different scale for a tree. In my mind's eye I accelerated time and watched as the young oaks surrounding a guardian oak grew in stature. Fire sweeps through the frame on several occasions. During one fire the old brood tree collapses and in another fire, the collapsed tree disappears from the frame. Of the young oaks that have survived, one dominates, spreading its limbs and growing large and robust. Along the margins of its canopy, I can see several sapling oaks…
Note: The young oaks in the title photo are an older brood that survived the Woolsey Fire, but many younger sapling oaks were killed. Introduced grasses, black mustard, and other introduced plants produce higher fuel loads than native equivalents and increase fire mortality.