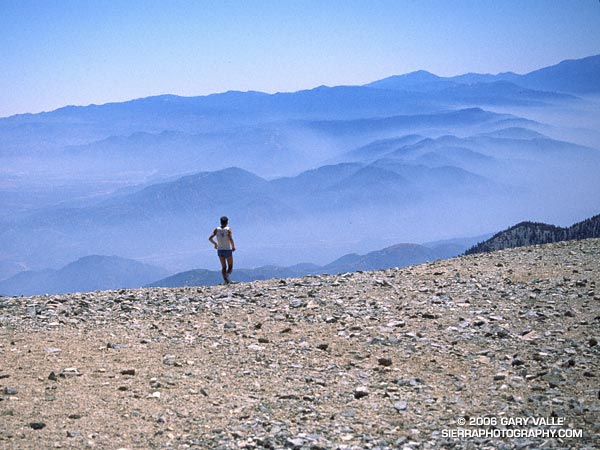 It's mid-August, which means that Labor Day, and the Mt. Baldy Run to the Top, are only a couple of weeks away. There's nothing quite like the experience of racing to the top of a 10,000 ft. peak en masse with 500+ other runners.
The nearly 8 mile course, with 4000′ of elevation gain, has been done in 1:00:49 by Matt Ebiner (1987), and in 1:15:32 by Carrie Garritson (1988). She was age 11 at the time! According to an article in the February / March 2002 Issue of TrailRunner Magazine "wild" Bill Lombardo has done the run barefoot!
More about the runner in this photo, the Mt. Baldy Run to the Top, and a race that climbs Mt. Baldy twice can be found in my SierraPhotography.com page Mt. Baldy, Runner Leaving the Summit. The photograph is from August 1991.
Related post: Mt. Baldy Run to the Top 2007