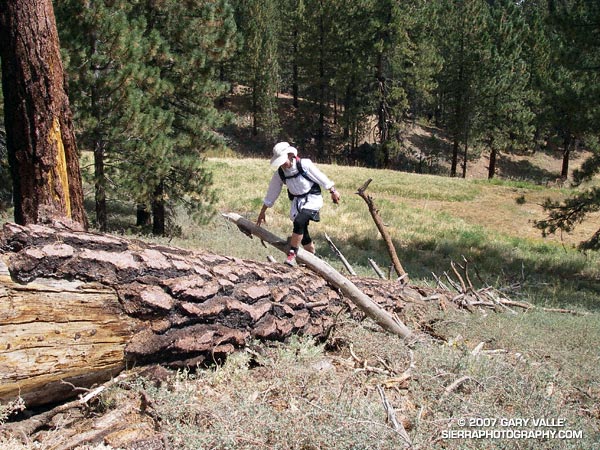 The plan had been to do a 2-3 hour run from the Chula Vista parking lot west over Mt. Pinos into the Chumash Wilderness, but due to the Zaca Fire, the trail/road to the summit of Mt. Pinos, the Vincent Tummawait trail, and all of the Chumash Wilderness were closed.
Improvising the best we could, we linked together some cross-country ski trails, use trails, a fallen tree, and the Mt. Pinos road, and were able to get in a good trail run.
Update Friday, August 31, 2007. In a press release dated August 29, 2007, the Forest Service announced that some areas within Los Padres National Forest east of Highway 33 that were previously closed to public entry because of the Zaca Fire would be reopened on August 30.
For more information regarding the Zaca Fire and related closures, see the Los Padres National Forest website.
Some related posts: Mt. Pinos – Mt. Abel Out & Back, Thunderstorm, Vincent Tumamait Trail