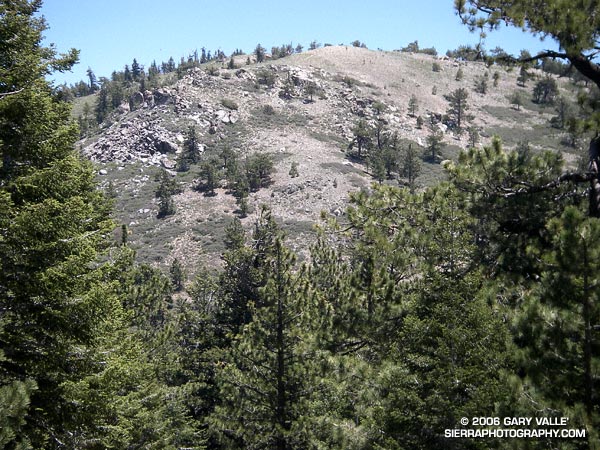 Mt. Pinos from the Vincent Tumamait Trail
There are several options for runs and hikes in the Mt. Pinos area. On the long side is the 25+ mile run from the lower McGill trailhead to Mt. Abel (Cerro Noroeste) mentioned in Snow Plant Still Life. Another valley-to-summit adventure is the approximately 20 mile out & back run/hike to the summit of Mt. Pinos from Three Falls Boy Scout Camp in Lockwood Valley.
This day I was looking to escape the heat of the San Fernando Valley, but do something a little less ambitious than either of those runs. The North Fork would be too hot, and McGill to Abel too strenuous. Instead, I opted for a third alternative, the Vincent Tumamait Trail between Mt. Pinos and Mt. Abel. By doing a short side trip to the spring at Sheep Camp, I could carry one water bottle and keep things simple.
The route, including the spur to Sheep Camp, works out to be about 14.5 miles, with 3000 ft. or so of elevation gain. There's a lot of up and down as the trail works its way along the forested ridge, and past the broad summits of Sawmill Mountain and Grouse Mountain.  The trail ends at the Cerro Noroeste road, but it is not difficult to find a way up the steep slope above the road to the summit of Mt. Abel.
In kayaking there is saying that you "never run the same river twice." The same is true of trails. Each experience on a particular trail is unique. This would be a day of unblemished blue skies and tired legs, the subtle scents of sun-warmed pine needles and Jeffry Pine on the air. A day of bounding deer, Paintbrush reds, and Wallflower yellows. It would be one to contemplate the fallen trees of Cerro Noroeste, the peculiar shape of the Larkspur leaf, the intricacies of the snow plant, and the hummingbird flight of the Bee Fly.
The photograph is a glimpse of Mt. Pinos from the saddle west of the peak. With sufficient snow cover, and the right conditions, I've enjoyed good skiing on these slopes, as well as along the ridge leading to Sawmill and Grouse Mountains. Here's a view of Grouse Mountain from near Mt. Abel.
Here's a Google Earth image and Google Earth KMZ file of a GPS trace of my route.