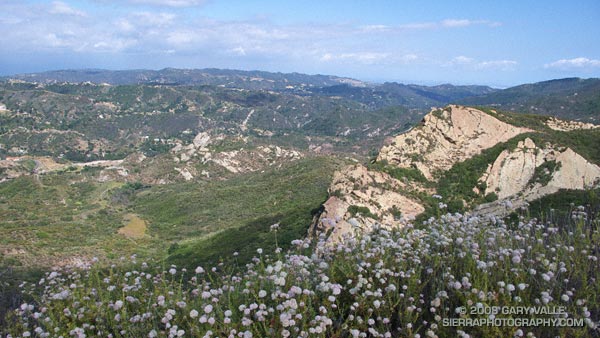 Along with the Chumash Trail to Rocky Peak Rd., the Secret Trail to Calabasas Peak is one of my favorite local short trail runs. The two mile route to the peak is a mix of single track and dirt road that gains about 750′ in elevation.
The trail winds its way through shaded ravines, dense chaparral and sandstone outcrops to Calabasas Peak Motorway. This fire road is followed south about half a mile to a use trail (on the right) that follows a ridge to the summit. It's also possible to continue higher up the road and access the summit from the south. There is a survey marker (actually two) on the summit.
Here's a Google Earth image showing the summit area, and a Google Earth KMZ file of a GPS trace of my route.
Calabasas Peak Motorway continues down to Stunt Rd. and connects to the Stunt High Trail and points beyond. Here's what Calabasas Peak looks like from the Backbone Trail near Saddle Peak.
Related posts: Tapia Bound, A Long Run Kind of Day