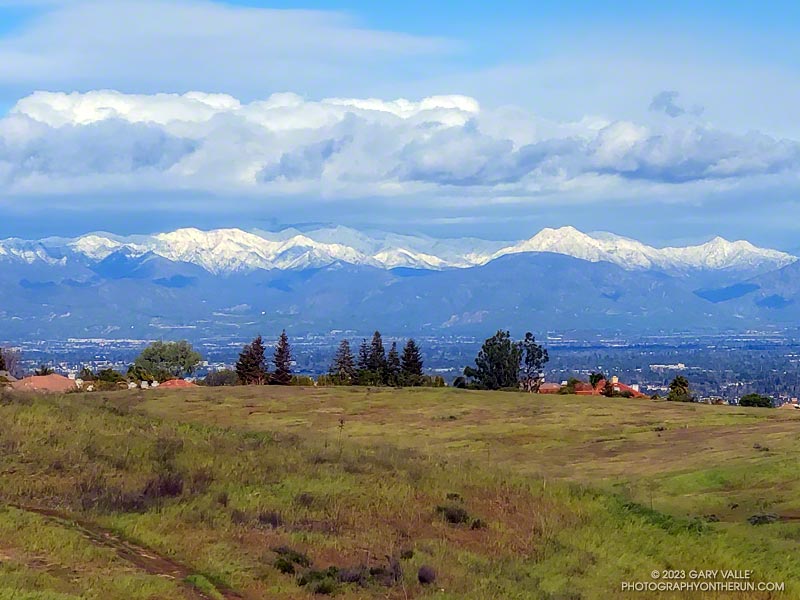 It had rained another inch overnight, and my shoes were soaked from the wet grass along the trail. Seeking some relief from the 20 mph northwest wind, I descended a single-track trail to an old paved road east of the ranch house on Lasky Mesa.
Motivated more by staying out of the wind than anything else, I did two sets of hill repeats on different sections of the road. Then, on tired legs, I jogged up to Lasky Mesa and was greeted by an Arctic blast. The temperature had dropped to the mid-40s, and the wind was blowing a steady 20 mph, gusting to around 30 mph. I didn't need a wind chill chart to tell me the effective temperature was in the 30s.
I was so focused on dealing with the cold I wasn't paying much attention to my surroundings. Deciding to do one more hill, I rounded a corner, and the brilliantly sunlit, snow-covered San Gabriel Mountains came into full view. It was just jaw-dropping!
Here is a wider view of most of the Front Range of the San Gabriels, white with snow.
Some related posts: Chasing Rainbows at Ahmanson Ranch, Looking for Snow on Topanga Lookout and Saddle Peak