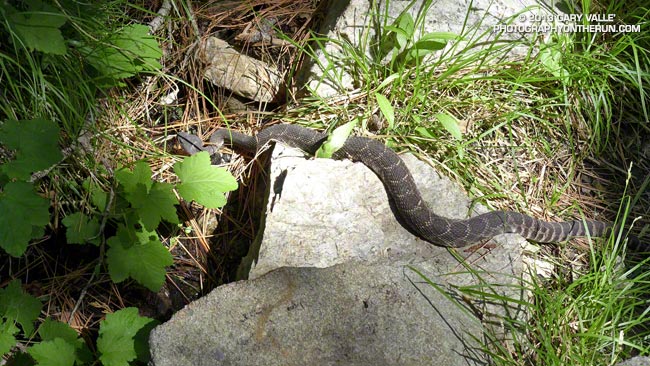 This southern Pacific rattlesnake was on the Burkhart Trail below Buckhorn at about 6200′ in the San Gabriel Mountains. We encountered the snake last Saturday while doing a loop from Three Points around Mt. Waterman. It's the second rattlesnake I've seen while doing this loop. The other encounter was on the Three Points – Mt. Waterman trail in a grassy area on the south side of Mt. Waterman at about 7000′.
The highest elevation I recall seeing a southern Pacific rattlesnake was at about 7200′, near the summit of Suicide Rock, in the San Jacinto Mountains near Idyllwild. In Rattlesnakes: Their Habits, Life Histories, and Influence on Mankind, Volume 1 (Klauber, University of California Press, 1972) there are accounts of northern Pacific rattlesnake encounters at 11,000′ in the Sierra Nevada, and southern Pacific rattle encounters at 10,000′ and above in the Big Bear area and near the summit of San Jacinto Peak (10,843′).
My most unusual rattlesnake encounter to date was while kayaking the Forks of the Kern in the southern Sierra Nevada. I had just done the entrance move on the rapid Big Bean and had stopped in a small eddy on the left side of the river, just above the most difficult part of the rapid. My kayak was facing up river and was nearly against the bank. I was looking back over my left shoulder, mesmerized by the power of the water pouring over the big drop. Preparing to do the move, I was totally focused on the river, when suddenly — above the roar of the rapid — there was the startling buzz of a rattlesnake at my right ear. I turned to see a rattlesnake on the bank at shoulder level. Fortunately the snake just rattled and did not strike. Double-adrenalized, I peeled out from the eddy and paddled over the drop.
For a brief description and a photo of each of the six species of rattlesnake that occur in Southern California see Rattlesnakes of Southern California (Loma Linda University Medical Center). I also found much interesting information about rattlesnakes on the web page of Loma Linda University Professor William Hayes.