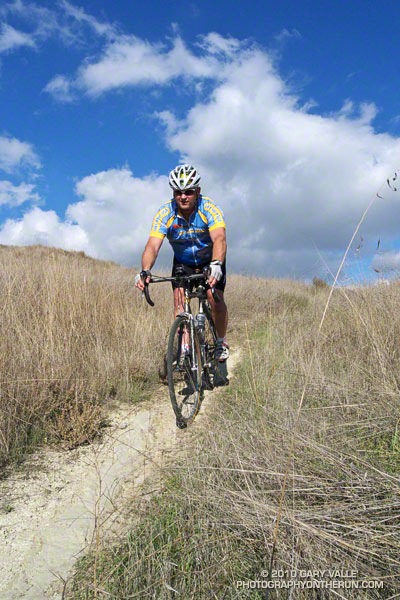 On their way from points north, to points south, Kevin and Janet stopped by for a visit today. Kevin was hoping to get in a ride before dinner, and I wanted to get in a run. Where could Kevin ride his Hampsten Strada Bianca Titanio, and I could run, and we might talk from time to time?
The Hampsten web site describes the Strada Bianca as, "Fast on smooth pavement but relaxed-yet-tough when the road turns to trail, cobbles, gravel, or dirt." Hmmm, this is the bike Kevin rode from Seattle to San Diego — it has skinny tires and fenders. Do they really mean trails? Kevin was game, so we headed out to Ahmanson.
Even with 29mm tires, the bike (and the rider) handled the varying terrain and surfaces well. We did a mix of dirt road and single track, some of it fairly steep. All but a few feet were ridable.
Here's some photos from the ride and run.
Kevin's bike is setup with a road triple crankset, 50-39-26, and 27-12 cassette.  The tires are Challenge Parigi-Robaix 700c clinchers, nominally 27mm, but more like 29mm as mounted. For wet weather riding it has hammered Honjo fenders.