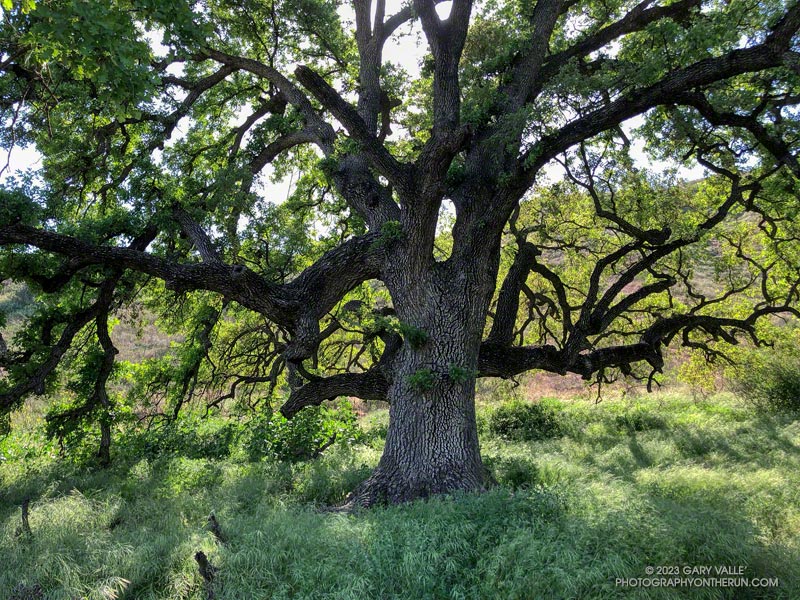 This large valley oak lives near the Upper Las Virgenes Canyon Trailhead of Upper Las Virgenes Canyon Open Space Preserve (aka Ahmanson Ranch). There used to be several large valley oaks near the trailhead, but they were killed in the 2018 Woolsey Fire.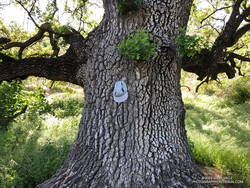 This tree is as large as any of the valley oaks I see along the trails at Ahmanson. I estimate it's diameter to be a little under four feet. That's not large by Northern California standards, but it is still a sizable tree. Valley oaks have a tougher time here.
Along with coast live oak, the valley oak is one of the iconic species of oak-grasslands at Ahmanson Ranch. In the past 20 years, valley oaks at Ahmanson Ranch have been more severely impacted by drought, fire, and rising temperatures than live oaks. In the not too distant future, the valley oak may become a relic at Ahmanson, much like the blue oak that died earlier this year.
Some related posts: Ahmanson Valley Oaks Finally Get Their Leaves, Ahmanson Valley Oaks Battling Drought, Ahmanson Blue Oak Succumbs to Climate Change, and Many More