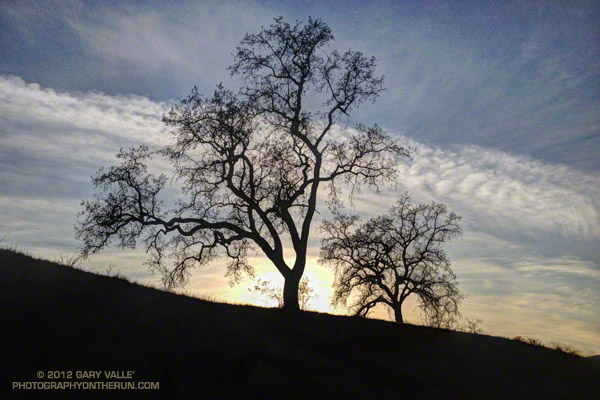 These valley oaks have dropped their leaves, but if you were to go by the warm temperatures we've been having in Southern California, you might think it was Summer.
Including today, the high temperature at Pierce College in Woodland Hills, California has reached into the 80s each of the last six days. High temperature records for December 31 – January 5 have been broken at several locations. Among the records broken, yesterday San Gabriel recorded a high of 91, Camarillo 90, and UCLA 89.
It sounds sweltering, and it can be if you're in full sun, but it's not like a 90 degree day in July. Days are short, shadows long, and some north-facing slopes never see the sun. And it does cool down quickly. If you take a look at the overnight lows on those six 80+ days at Pierce College, you'll see the temperature dropped to around 40-42 degrees.
On my run Tuesday afternoon, when the photograph of the valley oaks was taken, the temperature varied by as much as 20-25 degrees between some high and low points.
It has been great weather for running, but I'm ready for a change in the pattern and a little rain!