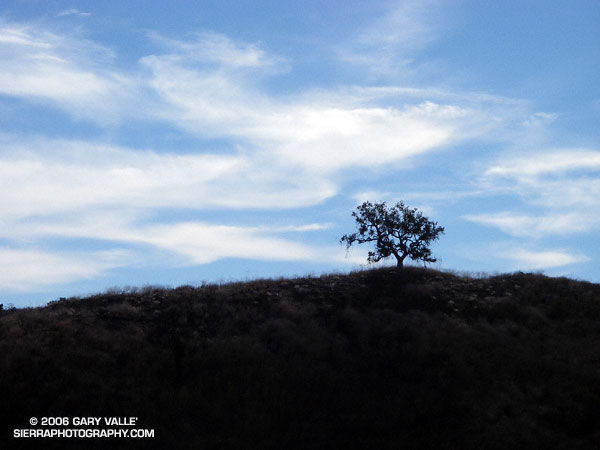 On the South Fork American River is a tree high on a ridge that rafters and kayakers refer to as the Lollipop Tree. It marks the beginning of the Gorge run and the class III rapid "Fowler's Rock."
When I run on the "main drag" at Ahmanson Ranch (Upper Las Virgenes Open Space Preserve) there is an oak tree that sits on a hilltop near Laskey Mesa that reminds me of the S.F. American tree. The Ahmanson lollipop tree can be seen on the skyline south of the main drag about a mile from the Victory trailhead.
This photograph was taken on an exploratory out and back run to the headwaters of Las Virgenes Creek on Christmas Eve.
Note: Jon Sutherland nicknamed the main road that connects the Victory trailhead to Las Virgenes Canyon the "main drag." Jon has run out at Ahmanson for more than 30 years. He is second on the Running Streak List for most consecutive days run. As of September 1, 2006 his streak was 13,613 consecutive days (37 years 99 days), and still counting!