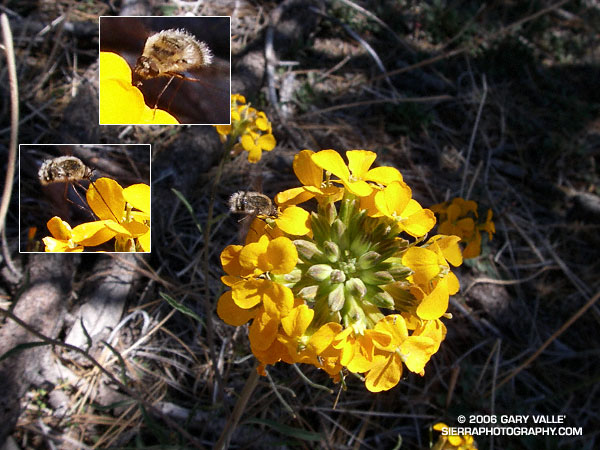 The fuzzy critter with the beady eyes is a Bee Fly. Its darting, hummingbird-like movements caught my eye while running on the Tumamait Trail near Mt. Abel (Cerro Noroeste) on Sunday. It was feeding on a Western Wallflower (Erysimum capitatum). Fully consumed by the morning's experiences, I had been marveling at the vibrant yellow of Wallflowers along the trail.
With only a cursory glance, someone might mistake a Bee Fly for a bee. It does buzz. But the resemblance is superficial. It is smaller than a Honey Bee, and more thick-bodied. It has long legs, and a long proboscis to collect nectar. These can be seen in the inset photographs.
Looking at these photographs it struck me that there probably is a relationship between the length of the Bee Fly's proboscis, and the length of its legs. It can be seen in the photos that the Bee Fly uses its legs to grasp a plant while flying and feeding. This helps stabilize its flight, conserves energy, and enables a quick escape from a possible predator. It would seem that the legs have evolved to be just long enough to accomplish this task.