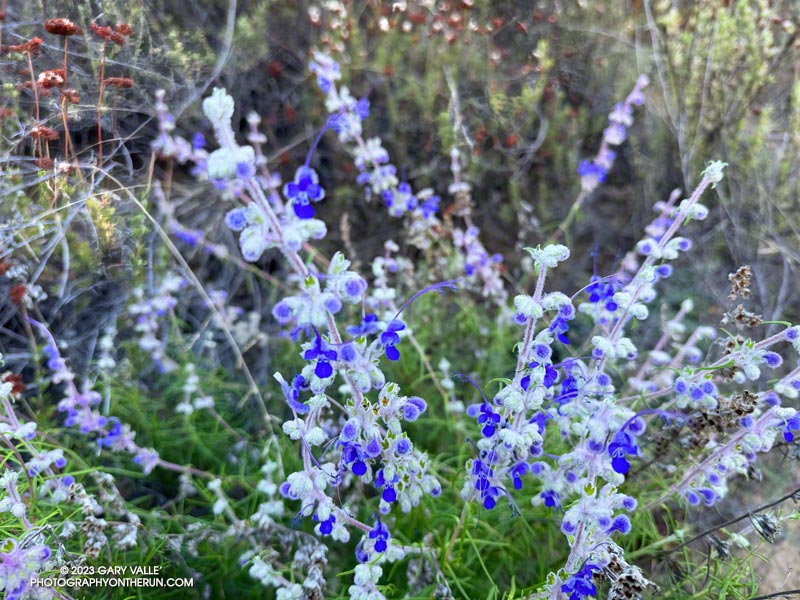 The blue of the woolly bluecurls was just stunning. The plant was along the Ken Burton Trail, in the San Gabriel Mountains, near Los Angeles.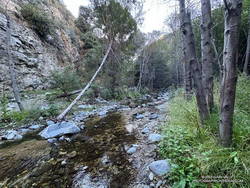 Woolly bluecurls normally flowers in the Spring, but rain from Tropical Storm Hilary, combined with Spring-like conditions caused it to bloom this Fall. Such blooms are usually not widespread and the flowers are often less robust than their Spring counterparts. Other Spring flowers that were blooming included Ceanothus, bush poppy, and golden yarrow.
The Ken Burton Trail connects the Gabrielino Trail, near Oakwilde, to a saddle at the top of Brown Mountain Road. Wella's Peak is a bump on the west side of the saddle. Brown Mountain towers above the east side.
Today, I was doing a longish out and back trail run to Wella's Peak from Clear Creek via Switzers and the Gabrielino and Ken Burton Trails.
Related post: Red Box – Bear Canyon Loop Plus Brown Mountain