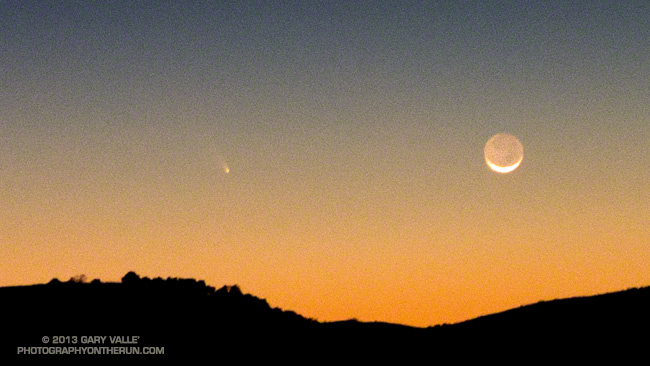 Did a night training run this evening in the Simi Hills, west of the San Fernando Valley, and combined it with photographing Comet PanSTARRS and the crescent moon with my normal running camera — a Panasonic Lumix LX7.
Since the comet is low on the western horizon and not very bright, it is a difficult object to photograph, and even more difficult to see with the naked eye.
I found a convenient pipe to use as a monopod and took some image sequences using the self-timer. This particular photo is from a single RAW format image shot at f/2.3 for 1 sec at ISO800 at the 35mm equivalent of 90mm.
Here's a larger version of the image. The soft light on the face of the Moon above the crescent is earthsine — diffuse sunlight reflected from Earth.
The run was also fun. Saw and heard more poorwills and also encountered a mule deer. Didn't see any coyotes, but certainly heard them.
Related post: Comet Holmes 17/P