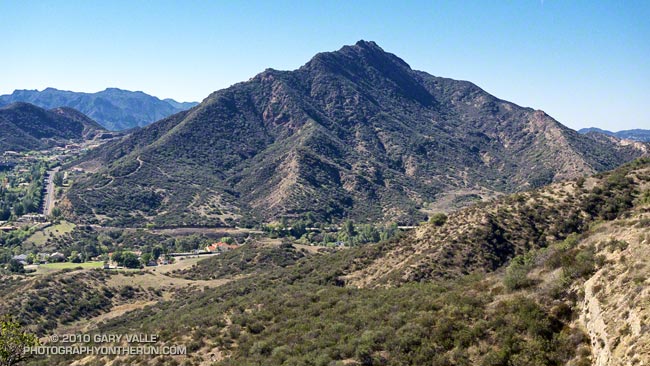 I wasn't familiar with the routes on Ladyface, and wasn't certain I could get to the peak directly from the Heartbreak Ridge trail. But that's part of the fun of an adventure run. I had a general idea of what I wanted to do — an out and back from the Phantom trailhead in Malibu Creek State Park to the top of Ladyface. And I had an idea of the time available to do it — about four hours. The details would sort themselves out along the way.
Or at least that was the theory. It was now three in the afternoon, and I was one hour and 56 minutes into sorting out those details. Theoretically, I was supposed to be on the summit of Ladyface in about four minutes.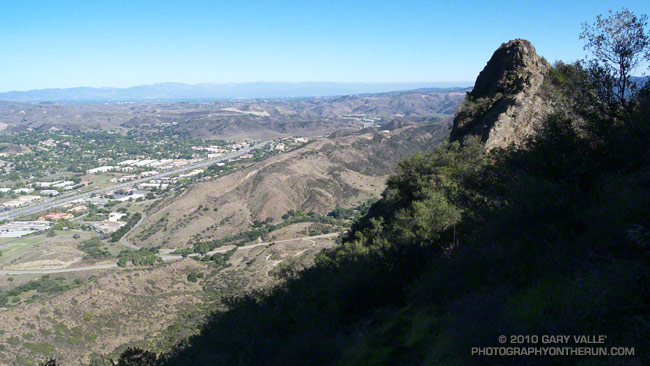 Earlier, I had run out of trail descending Heartbreak Ridge, and had used a network of coyote paths to get down to Cornell & Kanan roads. But then I chosen the wrong "trail" to start the climb of the peak.
For sure the route would follow one of the prominent ridges on the east side of the mountain. Since the descent of Heartbreak Ridge left me on the northeast side of the peak I had looked for a route there. One car was parked at the start of a dirt road, and a street vendor had indicated he'd seen people start the climb there. My thought was that maybe an established trail would work up the canyon and onto the northeast ridge.
Wrong Charlie Brown! The trail, which (ha!) turned out to be a freeride course, was a dead end. Following it burned about 10 minutes and a good chunk of elevation gain. I ran down and jumped up onto the northeast ridge, where I found a use trail.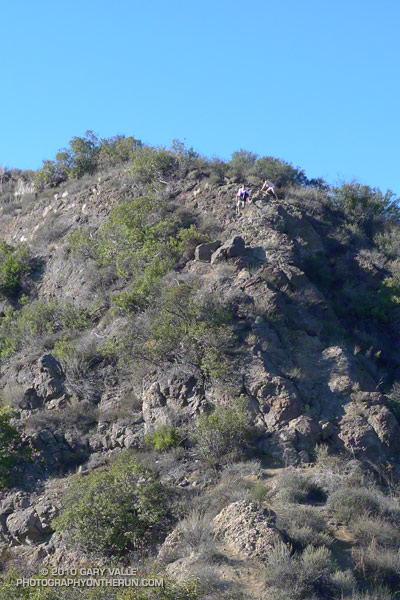 Low on the ridge it looked like this trail might go to a subsidiary peak and not the true summit of Ladyface. Whatever it did, I was now short on time, and committed to this approach. I would follow it until either I ran out of time, or reached a summit.
The face was deep in shadow and wet from Friday night's rain. Still a couple hundred vertical feet below its top, I zig-zagged up through the steep outcrops of Conejo volcanic rock. It wasn't how I had pictured the trail on Ladyface, and I hadn't expected to be climbing on wet, mossy holds for the second weekend in a row.
Two hours and 3 minutes into the adventure I scrambled onto the summit. A surprised hiker asked, "Where did you come from?" I explained, and he commented, "I've never climbed Ladyface that way."
I jogged down the well-used, but somewhat manky trail on the east/southeast ridge, followed Kanan back to Cornell Rd., climbed back up Heartbreak Ridge, and made it back to the car a couple of minutes after five o'clock.