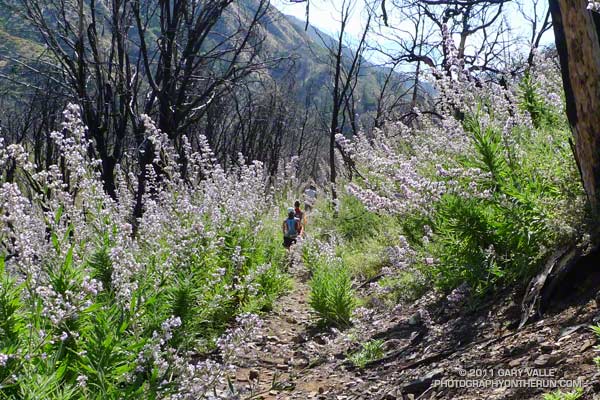 Note: The Mt. Disappointment Endurance Run is now the Angeles National Forest Trail Race.
This year the Mt. Disappointment 50K course will be the most difficult to date — 33.1 miles with an elevation gain/loss of 6195′ according to course info. And that isn't a fanciful elevation gain, exaggerated to hype the race. Ask any Mt. Dis runner, it's a real number that has left both the experienced and uninitiated crawling up the Kenyon Devore Trail at the end of the race.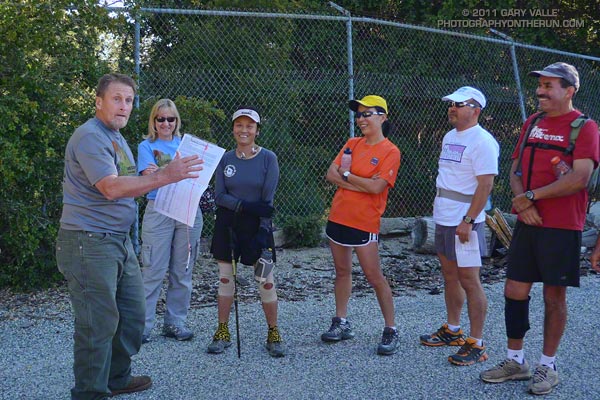 To introduce us to the changes in the 2011 course, Gary & Pam Hilliard and Fausto & Cindy Rowlan arranged today's training run — complete with course markings and an aid station. Pam and Cindy took care of the aid station at West Fork, and Fausto marked the course. (Thank you!!)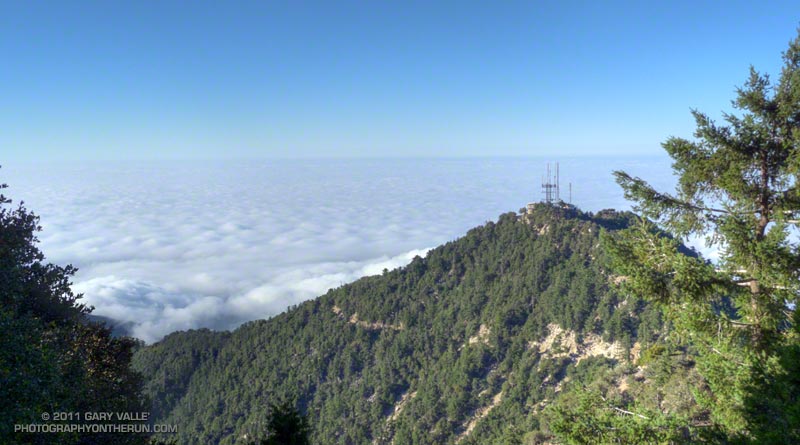 The 50K course is similar to last year's, but instead of running all the way down to Red Box on the Mt. Wilson Road, at about mile 2.5 it turns right onto the Valley Forge Trail and descends 2.7 miles to the Gabrielino Trail. The course then turns UP canyon and follows the Gabrielino Trail 1.6 miles to Red Box Road. From this point, the 50K course is the same as in 2010. The combination of bonus elevation gain, bonus distance, and additional technical trail could increase times in the middle of the pack by 30-40 minutes or more.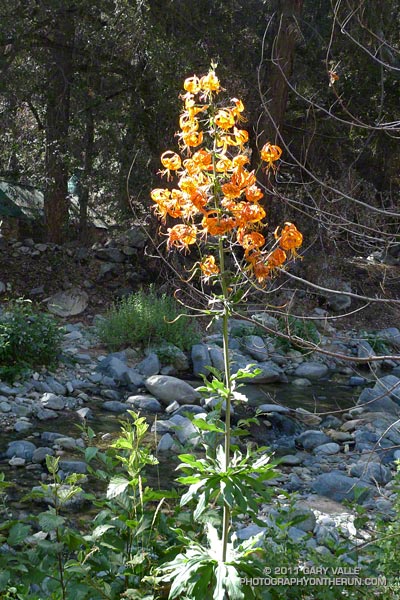 On today's training run we did the first 11 miles of the 50K course down to West Fork, then followed the last 5 miles of the course up the Gabrielino and Kenyon Devore trails to the top of Mt. Wilson. The training run was a little less than half the length, and a little more than half the elevation gain of the 50K course. Working up Kenyon Devore, even having done it numerous times, I was shaking my head and asking myself, "and how is this going to feel after 29 miles?"
About 30 runners participated, many of them sandwiching the training run between races and other difficult runs. Conversations ranged from whether you need to do long training runs to do ultras, to favorite gels and drinks. But one runner's story surpassed all others. He was in a wheelchair from age 6 to age 19, had corrective surgery, and since then has run nearly 200 marathons or ultras — including a 50K the weekend before the training run!
Note: The title photo is of the Valley Forge Trail.