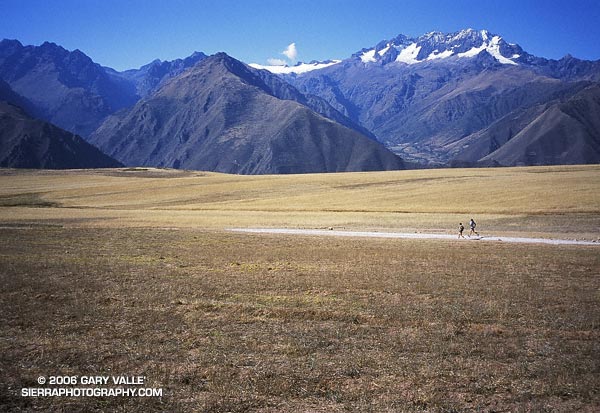 We did this acclimatization run early in our running adventure in Peru. The grain field is on a plateau at about 11,000′, and parallels the Sacred Valley of the Incas, and Urubamba River.
The run took us across the plateau, down to the Maras salt mines, and then down into the Sacred Valley at a little over 9000′. Excited about the trip, we ran most of the way back to the hotel in Yucay. That evening we enjoyed Pisco Sours and an excellent dinner, and then drifted off to sleep dreaming of big mountains and expansive views.
The high peaks beyond the valley are part of the Cordilla Urubamba and are over 5000m (16,400′). The highest point on the Inca Trail, the "pass of the dead woman," is at about 13,800′. Later in the trip we would cross two 5000m passes while running a circuit of Mt. Ausangate.
The photograph is from July 15, 2003. The trip organizer, Devy Reinstein of Andes Adventures, is a accomplished runner, and a genius at travel logistics and organization.