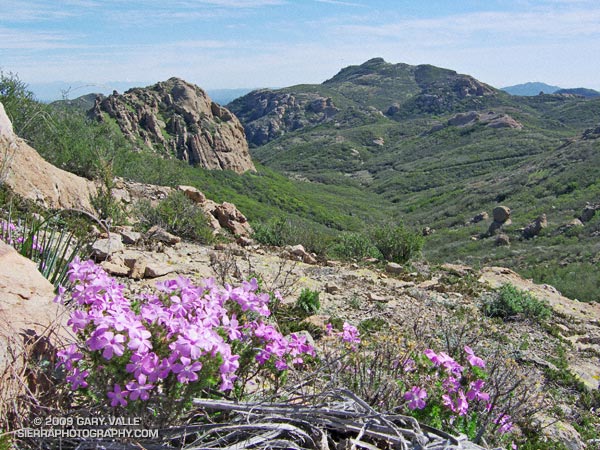 Big Dome and Sandstone Peak from Tri-Peaks
Whatever route you use to get there, Sandstone Peak (3111 ft.) is a rewarding summit with sweeping views that range from the Channel Islands to Mt. Baldy and beyond. It is the highest peak in the Santa Monica Mountains, and a popular destination.
The peak is usually done as a steep 3 mile hike (round trip) from the Sandstone Peak Trailhead, or as part of a scenic 6 mile loop from the Mishe Mokwa trailhead. This National Park Service PDF provides additional information and a map of these trails.
A third option is to skip the drive to Yerba Buena Rd., and do the peak as an adventure hike/run from Wendy Drive trailhead in the Conejo Valley. This can be done by ascending one of the routes on the north side of Boney Mountain, then continuing up and over Tri-Peaks to the Mishe Mokwa/Backbone trail junction. From here the Backbone Trail leads to a spur trail that climbs the peak.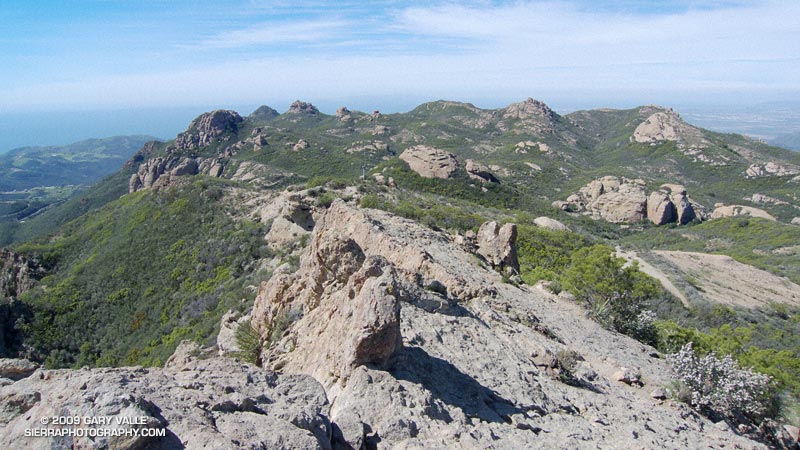 We took this last option and climbed Boney Mountain's more technical western ridge. Done this way, it was about 6.5 miles to Sandstone Peak's summit, with an elevation gain of about 2400 ft. Here's a view west from Sandstone Peak of the Boney Mountain summit area. Tri-Peaks is the rocky peak on the skyline, right of center, and Big Dome is to the right of Tri-Peaks. The route up the western ridge tops out on the crest between these two peaks.
The basic choices for getting back to the Wendy Drive trailhead are to go back down one of the trails on Boney Mountain's north side; descend the Chamberlain Trail to the Old Boney Trail, and then loop back over the shoulder of Boney; or descend to Big Sycamore Canyon and then return from there.
Miklos and Krisztina had not run down Boney's eastern ridge, so they backtracked over Tri-Peaks, and descended the use trail to the Danielson cabin site. I was looking to do some additional mileage, so ran down the Chamberlain, Old Boney and Blue Canyon trails to the Danielson multi-use area in Big Sycamore Canyon, and then up Sycamore Canyon to the Upper Sycamore Trail, and back to Satwiwa.
Here's a Google Earth image, Google Earth KMZ file, and Cesium ion view of a GPS trace of my route. The eastern ridge route is also shown.
Related posts: Balance Rock, Boney Mountain Western Ridge & Loop