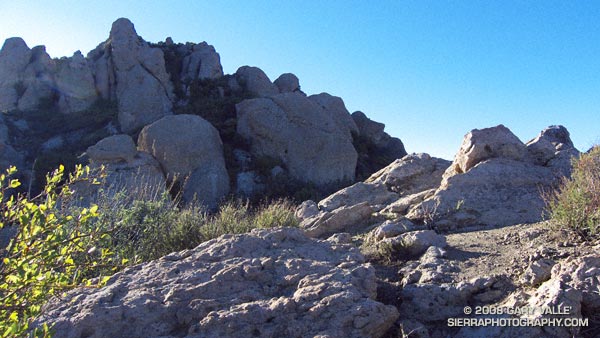 Two routes are commonly used to climb the rugged north side of Boney Mountain. One route ascends a ridge to the east of the Danielson cabin site, and the other a rocky ridge to the west of the site. Today, I was planning to do the western ridge, and then continue up and over Tri-Peaks to the Chamberlain segment of the Backbone Trail.
The day was chilly. In the deep shadows along Danielson Road, puddles of water were frozen, and frosty soil crunched underfoot. Shadow turned to sun at the turnoff to the cabin site, and I paused for a moment to enjoy the warm sunshine and gaze at the rocks towering above Danielson's canyon. This impressive formation straddles the western ridge and I wondered just how spectacular the crags would be.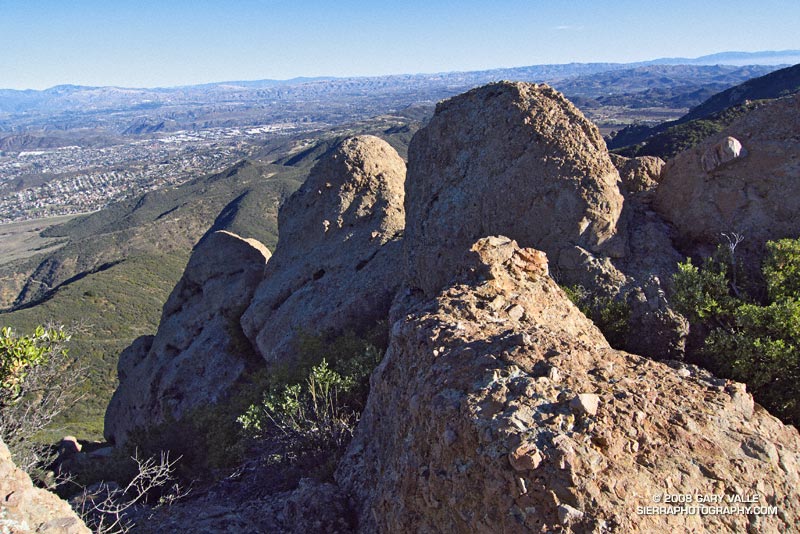 Spurred by a small surge of adrenalin, I turned and continued up the Old Boney Trail. From its highpoint I followed a use trail to the top of benchmarked "Hill 1918." The first big outcrops loom above this point, and they mark the start of the more challenging part of the western ridge.
Although some sections were a bit overgrown, the route was fairly well defined. Despite appearances, there was no significant bushwacking, and only a little scrambling up, or across, short sections of low angle rock. By usual mountaineering standards the climbing was not difficult — class 2 to marginal class 3 — but some skilled route finding is required. It was fun finding my way through the imposing outcrops of angular and pocketed Conejo volcanic rock.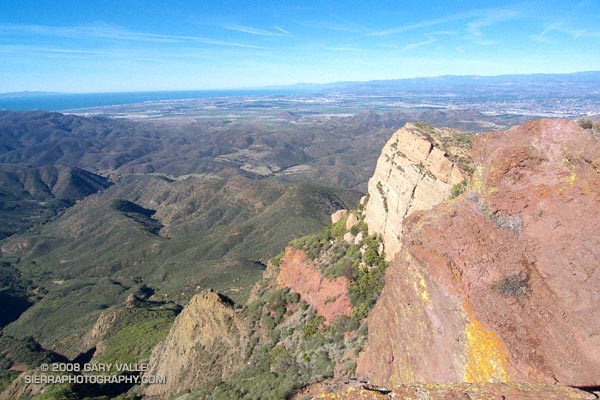 Higher on the ridge the route played tag with the edge of the precipitous cliffs of the Boney Mountain escarpment. At various points there are craggy views of Pt. Mugu State Park, the Channel Islands, Oxnard Plain, and the mountains of Ventura and Santa Barbara. Eventually, the route emerges from a steep thicket of red shanks at a small saddle north of Tri-Peaks.
From here, I continued to Tri-Peaks and was soon enjoying the superlative downhill of the Chamberlain Trail. This time, instead taking one of several routes down to Big Sycamore Canyon, I looped back on the Old Boney Trail to the start of the climb. From here I retraced my route on the Danielson Road back to Satwiwa and the Wendy Drive trailhead.
The course worked out to about 16 miles with an elevation gain of over 4000 ft.
Some related posts: Boney Mountain – Big Sycamore Canyon Circuit – Coyote Trail Variation, Clearing Clouds on Boney Mountain