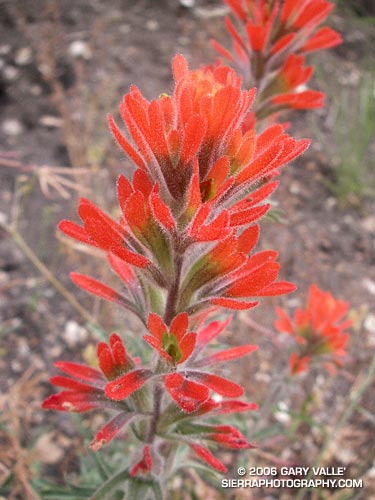 In this case, Indian Paintbrush (prob. Castilleja affinis), Scarlet LarkSpur (Delphinium cardinale), and Indian Pink (Silene laciniata) in the Cheeseboro Canyon area of Southern California.
As is the case with many wildfires, one of the side effects of the 2005 Topanga Fire has been to promote a population explosion in many species of wildflowers. Scarlet Larkspur has been especially prevalent in some areas, such as upper Cheeseboro Canyon.
These photos were taken on a run to Simi Peak from the Las Virgenes Rd. trailhead of the Upper Las Virgenes Open Space Preserve on June 11, 2006. I like to go out via upper Las Virgenes Canyon, and come back through Cheeseboro Canyon. This variation is about 16 miles, with an elevation gain and loss of about 2000 ft. The run can be extended to about 21 miles by starting at El Scorpion Park, near Vanowen and Valley Circle. Following are links to trail maps for Upper Las Virgenes Canyon Open Space Preserve and Cheeseboro/Palo Comado Canyons.
Related post: Simi Peak Out & Back