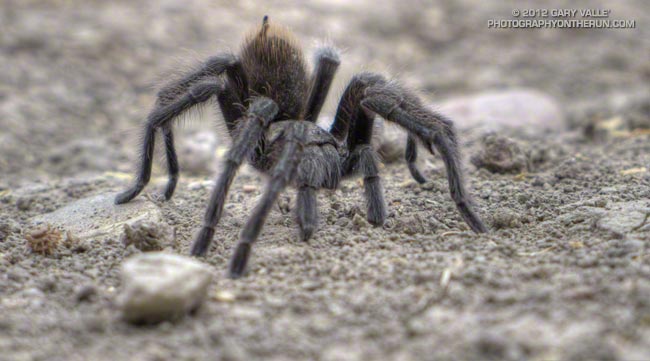 Updated October 24, 2013.
Since 2005 these are the dates I've photographed a tarantula at Ahmanson Ranch (Upper Las Virgenes Canyon Open Space Preserve).
September 05 (2012)
September 08 (2006)
September 13 (2005)
September 19 (2007)
September 15 (2009)
October 3 (2012)
October 9 (2012)
October 11 (2006)
October 12 (2011)
October 17 (2012) (2)
October 23 (2013)
Autumn is when maturing male tarantulas (Aphonopelma spp.) wander about in search of a mate.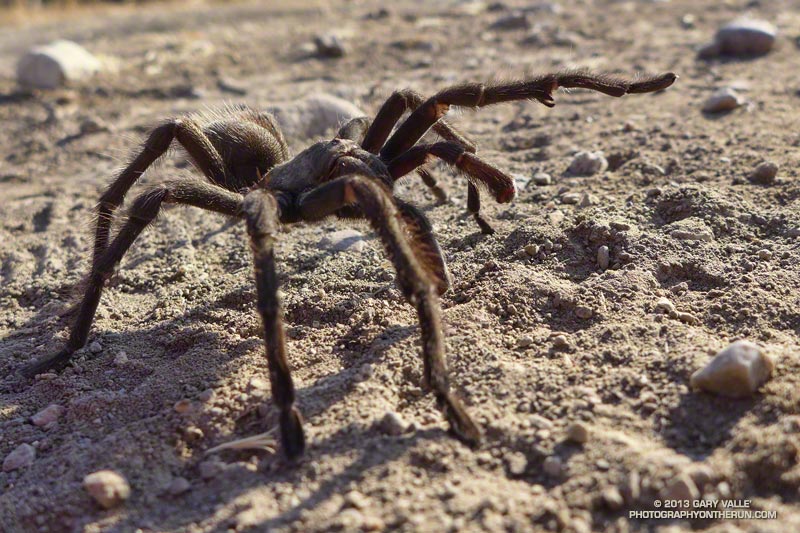 I was beginning to wonder if I would see a tarantula at Ahmanson this Fall. The last time I hadn't seen a tarantula in September or October was 2008. Yesterday I spotted this one on the main fire road in East Las Virgenes Canyon on a run over to Cheeseboro Canyon.
The title photograph is from a run on September 5, 2012. The raised abdomen is a defensive posture. Tarantulas will scrape their abdomen with their bristly rear legs, launching irritating (urticating) barbed hairs into the air. Most tarantulas I've encountered this time of year do not react defensively — they're just interested in finding a mate.
Some related posts: Tarantula Time, Sting of the Tarantula Hawk, Tarantula Hawk