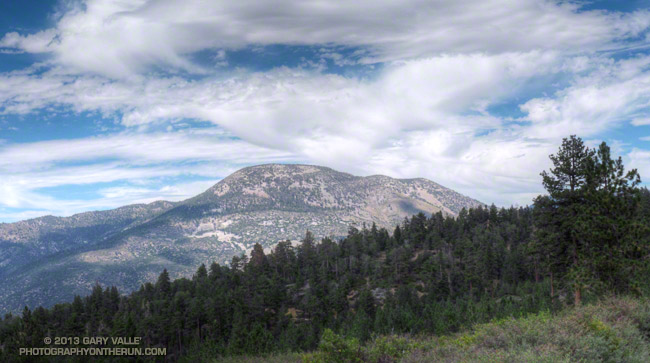 Sugarloaf Mountain (9952′) is the high point of the Kodiak 100 Ultramarathon, a new ultra being run this Friday, Saturday & Sunday, Sept 20-22, in Big Bear. A 50 mile course is also being offered.
The 100 mile race begins Friday at 6:00 p.m. at The Village of Big Bear Lake. The summit of Sugarloaf Mountain is at about mile 17.5 of the course. Assuming clear skies, runners will ascend the peak under the light of a 98% full moon. According to the U.S. Naval Observatory data, sunset on Friday will be at 6:47 p.m., with "civil twilight" ending at 7:12 p.m. Moonrise will be at 7:30 p.m. At 9:00 p.m. the moon will be about 18 degrees above the eastern horizon.
The 50 mile race begins Saturday at 6:00 a.m. at about the half-way point of the 50 mile course. Saturday, civil twilight begins at 6:10 a.m., with sunrise at 6:35 a.m. Sunset is at 6:45 p.m., with civil twilight ending at 7:10 p.m. Moonrise Saturday evening will be at 8:08 p.m.
The photo of Sugarloaf Mountain is from the South Fork Trail just above Horse Meadows on the way down from an ascent of San Gorgonio Mountain this August. The south face of Sugarloaf Mountain drops about 3800′ to the Santa Ana River east of Barton Flats.
Note: Sun and moon rise and set times depend on the altitude and location of the observer, and other factors, so may vary a few minutes from the times mentioned above.