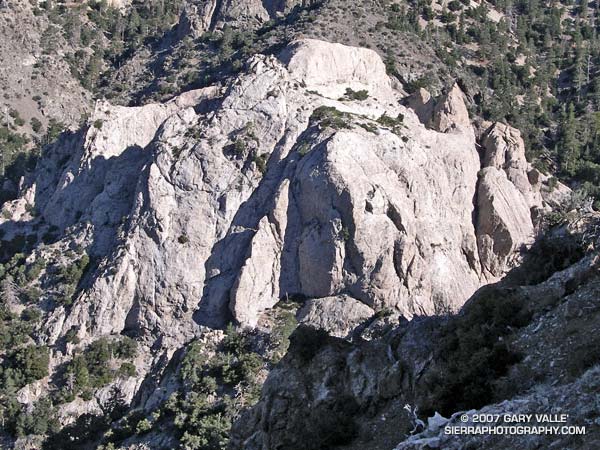 Originally posted 5/27/07. Previously updated 9/15/10. Scoping letter info added 12/22/13. Draft EIS info added 8/21/18. 
Update 8/21/18. Nearly 13 years after the closure of Williamson Rock and a key segment of the Pacific Crest Trail, the Forest Service has released a Draft Environmental Impact Statement for the Williamson Rock Project. The public comment period is from July 27 to September 10, 2018. For additional information see the Forest Service Williamson Rock Project page and the Access Fund page REOPEN WILLIAMSON ROCK TO CLIMBING!
Update 12/22/13. New Williamson Rock/PCT scoping letter, dated 12/18/13, from Angeles National Forest to "consider resuming recreation opportunities in the currently closed area, in and around Williamson Rock."
————
Located in Angeles National Forest (ANF), Williamson Rock is an area of exceptional scenic and recreational value. Because of its proximity to Los Angeles, variety of climbing routes, scenic beauty, and moderate summertime temperatures, it is one of the most popular rock climbing areas in Southern California.
In December 2005, in order to protect critical habitat of the mountain yellow-legged frog (MYLF), the Forest Service "temporarily" closed approximately 1,000 acres in the upper Little Rock Creek drainage in the San Gabriel Mountains. The closed area includes Williamson Rock, and the Pacific Crest Trail between Eagle's Roost and the Burkhart Trail.
In May 2007 the Forest Service issued a press release and scoping letter proposing an access trail and initiating an environmental analysis. Now, nearly five years after the "temporary" closure of Williamson Rock, and following many delays, Angeles National Forest has completed a draft Environmental Assessment (EA) whose bottom line recommendation is to extend the closure another three years!
In the draft EA, the Forest Service says the extension is needed,"while neighboring [MYLF] population segments are given time to rebound from the effects of wildfire and consequent watershed emergency."
The Forest Service's recommendation to extend the closure is based on a false premise, that closure of MYLF habitat, and adjacent land, will protect the MYLF population. There is substantial evidence that this is not the case. This was recognized in the 1999 paper (Mahony, et al.) in which researchers assessed the disappearances and declines among Australian frogs and proposed methods to prevent further losses:
"It is generally accepted that the least expensive way of preventing extinction and loss of biodiversity is the maintenance of habitats. This argument is well established in the conservation biology literature (Caughley and Gunn 1996), however, it does not consider or deal with a situation such as that which currently faces frogs in Australia and globally. One of the puzzling features is that species have disappeared from areas of pristine or near pristine habitat and areas of large reserves where there are no indications of habitat destruction. Similarly, there is no evidence that an introduced competitor or predator is responsible, apart from the hypothesis that an introduced pathogen is involved (Laurance et al. 1996). Preservation of habitat or declarations of new reserves would not have halted or prevented the loss of the majority of species."
Since this paper was published, there has been much research in this area, and there is a growing body of evidence that global declines in many species of frogs, including the MYLF, is due to infection from the chytrid fungus, Batrachochytrium dendrobatidis (Bd).
It is believed that the fungus is spread through its own movement in water, the flow of water, and by the activity of infected amphibians. Because infection has occurred in pristine, widely separated populations, it is hypothesized that other vectors, such as birds, fish, animals or insects, could play an important role in its spread. Research has shown that spread by birds and other mechanisms are a possibility (Johnson & Speare, 2005). It is also a possibility that Bd has been present in amphibian populations worldwide for some time (Rachowicz et al., 2006).
In support of its recommendation that the Williamson closure should be extended, the EA states, "Indirect impacts to the frogs include the spread of pathogens, such as chytrid fungus, inadvertently carried into the habitat by visitors."
I have found no published evidence that recreational activities, such as rock climbing, are the proximate cause of the spread of Batrachochytrium dendrobatidis into MYLF habitat. It would seem especially unlikely in the context of rock climbing in usually warm and dry Southern California. Desiccation kills the fungus. In the 2005 study by Johnson & Speare, in which zoospores and zoosporangia were introduced on feathers, under most circumstances the fungus became inviable after 2 hours of drying.
According to the EA, all remaining units of the Southern California distinct vertebrate population segment (DPS) of the MYLF have already been confirmed positive for presence of Bd. This suggests that a frog unaffected by Bd is much more likely to be infected by natural mechanisms and vectors from within the infected population rather than by Bd brought into the habitat by a human visitor.
Under the EA's Alternative 3 (The Recreational Development Alternative), in which climbers would be routed away from MYLF habitat, the probability of climbers spreading Bd from outside the habitat, or physically harming the frogs, or disrupting their habitat, would appear to be almost nil.
Rather than extending an unnecessarily prohibitive closure that is unlikely to benefit the MYLF, a plan such as Alternative 3 (The Recreational Development Alternative) should be adopted, and Williamson Rock reopened to climbing.
—
The efforts of the climbing community are being coordinated by the Friends of Williamson Rock in partnership with the Access Fund and the Allied Climbers of San Diego. The Access Fund is a national, non-profit climbers' organization dedicated to preserving the natural resources used by climbers, and climbers' access to those resources.
Comments regarding the draft EA, and the recommendation to extend the closure of Williamson Rock for another three years, must be submitted by October 1, 2010. Send to:
Darrell Vance
Attn: Williamson Rock Environmental Assessment
701 N. Santa Anita Ave.
Arcadia, CA 91006
Email: [email protected]
For more information, see the Access Fund Williamson Rock page.
The photograph of Williamson Rock was taken on the PCT while doing the run Pleasant View Ridge on July 2, 2006.
Related post: Complications