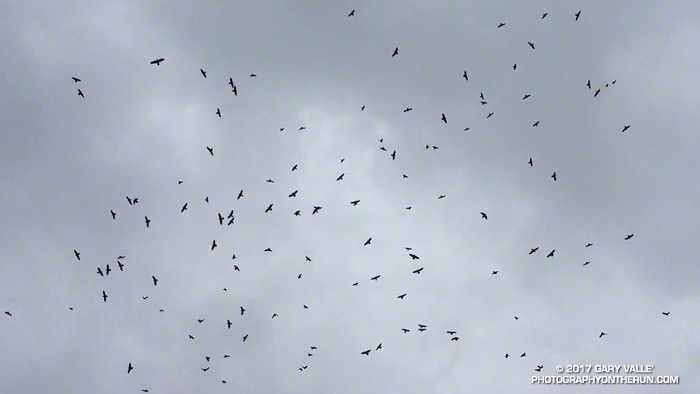 With a storm approaching and rain only an hour or two away, I'd been debating where to turn around. I'd just climbed the steep hill between Upper Las Virgenes Canyon and Cheeseboro Ridge and decided to continue down to Cheeseboro Canyon. As I drew closer to the trail's junction with Cheeseboro Canyon, I began to hear a cacophony of cawing crows.
At the junction crows literally filled the sky (video). It seemed the call was out and crows were coming from all directions to join the flock.
Though I'd never seen such a large aggregation in Cheeseboro Canyon, it is common for the American crows (Corvus brachyrhynchos) to form large foraging and roosting flocks in winter. Winter is tough on animals and isn't surprising that the social and intelligent crow would cope with Winter in this cooperative fashion.
Leaving the crows behind I started the trip back to the Victory trailhead. It would take about an hour and I hoped the rain didn't get there before I did!