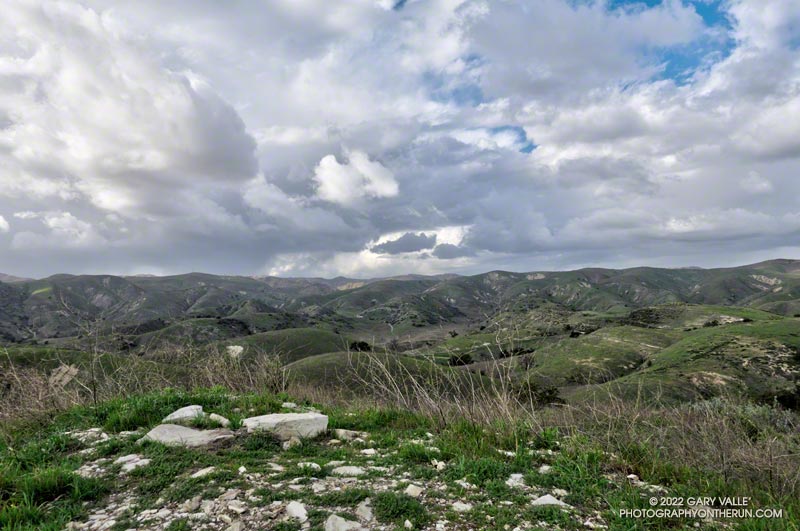 Yep, that was a rumble of thunder. It was a blustery, Spring-like afternoon and a storm cell had developed a few miles to the WNW of Lasky Mesa.
Before driving over to Ahmanson I'd checked the weather radar and seen cells circulating counterclockwise around a cold upper level low. Most were dissipating as they moved north to south, out over the Valley. The wildcard was that the upper low was moving southward, and the cells might strengthen.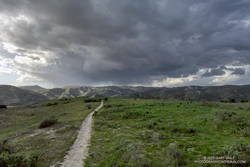 Again there was a low rumble. The cell didn't seem any closer, but now I could see additional development to the north and northeast of Ahmanson. I picked up the pace.
There's nothing like the threat and energy of a thunderstorm to incentivize a runner. All the way back to the trailhead it looked like heck might break loose at any moment.
But it didn't. It was just starting to rain when I got back to the car, and on the way home the streets were wet. The Cheeseboro RAWS recorded 0.06 inch of rain, as did Downtown Los Angeles (USC).
Even though the Rain and Water Year rainfall totals for Los Angeles are about normal for the date, January and February have seen little rain. Precipitation records for Los Angeles indicate the period January 1 to February 28 will be the fourth driest on record.
The precipitation outlooks for Southern California this March don't look especially promising, with a typical La Nina precipitation pattern expected for the West Coast.
Some related posts: Clearing Skies at Ahmanson Ranch, Thunderstorm