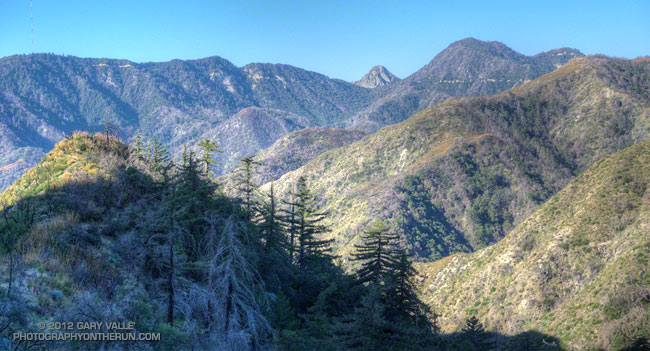 Did the "back 25K" of the Mt. Disappointment 50K course this morning, plus a couple of bonus miles on the Gabrielino Trail and the bottom of the Kenyon Devore Trail. Like last Sunday's run, today's run was in a part of Angeles National Forest that was closed by the 2009 Station Fire and reopened last May.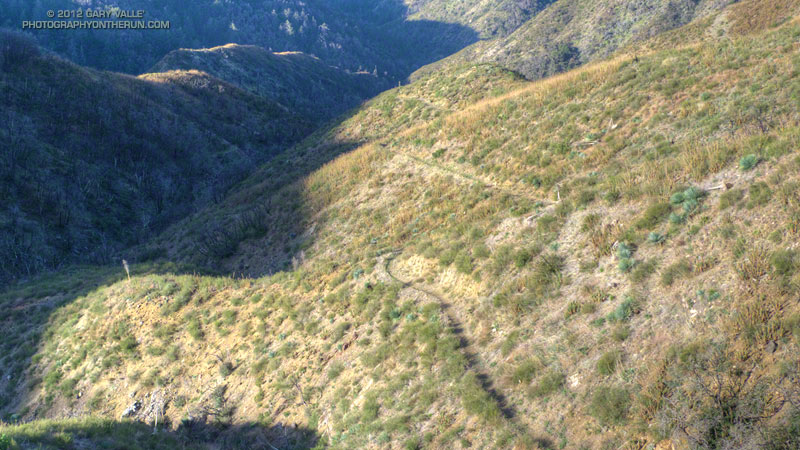 This loop was part of the Mt. Disappointment 50M course in 2007, 2008 and 2009, and the 50K course in 2010 and 2011. Today I started the loop at Shortcut Saddle, running down the Silver Moccasin Trail to West Fork, then up to Newcomb Saddle, and then completed the loop by returning to Shortcut on Edison Road. In the 50K, the loop starts at West Fork, but the sequence of trails is the same.
Because of increased foot traffic and our dry Winter, last year's trailwork on the Silver Moccasin Trail held up well. Most of the trail between Shortcut Saddle and West Fork was in great shape and very runnable. There were a couple of trees across the trail, but these were easy to work under, over or around.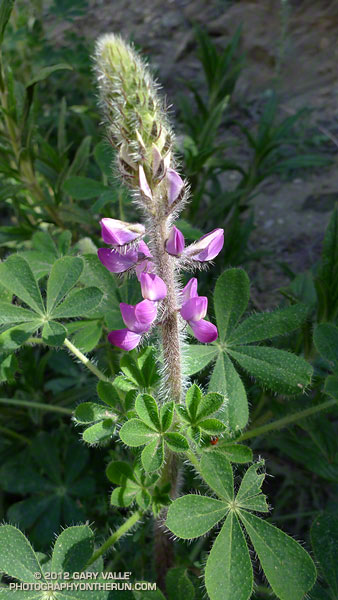 The reason for the side trip on the Gabrielino Trail was to check out the bottom of the Kenyon Devore Trail. This section of trail was severely burned in the Station Fire, then overrun by a debris flow and overgrown by Turricula (Poodle-dog bush). The Mt. Disappointment 50K/50M volunteer trailwork group has worked many hours here, as well as on the rest of the Kenyon Devore Trail, the Valley Forge Trail and the Silver Moccasin Trail. The trail had seen a lot of traffic and was in good shape.
As was the case last week, there was still Turricula along the trails and roads, but for the most part it was easy to avoid.
The last time I'd run up Edison Road was last August during the 2011 Mt. Disappointment 50K. Temps were about 25-30 degrees warmer that day. With the cooler weather I actually enjoyed the climb and was able to run more of it. A lot of work was being done on Edison Road and I chuckled as I passed each "No Loitering" sign posted along the road. I hoped I wouldn't be doing too much of that in the 2012 Mt. Dis 50K.