Poodle-dog bush* sprouting on "Edison" road between the West Fork San Gabriel River and Shortcut Saddle.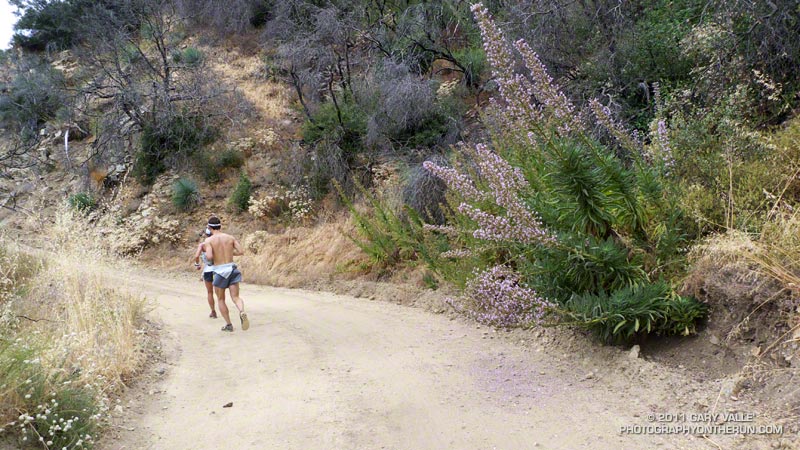 The serration of the edges of these sprouting leaves is more pronounced than in older plants, but in my experience the toothed leaf margin is present to a varying degree on most plants. This may not always be evident because the leaf margin tends to roll under with age. The minutely hairy, densely clustered lanceolate leaves and pinnate veining are distinctive.
The leaves become more fuzzy and gray-green with age, eventually turning yellow-brown and then gray as they wither. The mature stalks of Turricula can be several feet tall.
From Sunday's run from Shortcut Saddle in the San Gabriel Mountains, near Los Angeles.
*The taxonomic name for Turricula parryi (Poodle-dog bush) has changed to Eriodictyon parryi. The Jepson Manual: Vascular Plants of California, Second Edition (2012) has returned Turricula to the genus Eriodictyon, as originally described by Gray. According to the Wikipedia entry for Turricula (April 11, 2012), "… molecular phylogenetic analysis carried out by Ferguson (1998) confirms that Turricula should be treated as a separate genus within a clade (Ferguson does not use the term "subfamily") that includes Eriodictyon, and also the genera Nama and Wigandia; Eriodictyon is the genus to which Turricula is closest in molecular terms, and is its sister taxon." I use "Turricula" and "Poodle-dog bush" interchangeably as a common name.
Related posts: Contact Dermatitis from Eriodictyon parryi – Poodle-dog Bush, Getting Over Poodle-dog Bush Dermatitis, Trail Runners Describe Reactions to Poodle-dog Bush