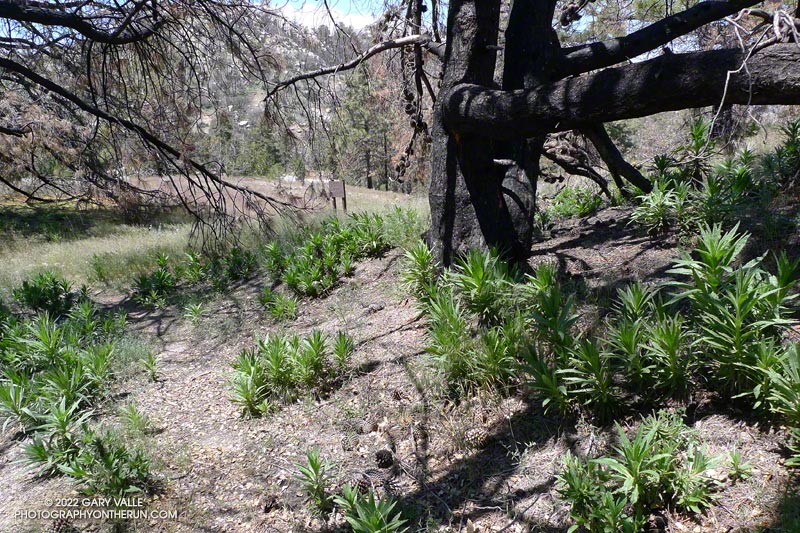 Poodle-dog bush* sprouting at the junction of the PCT and Mt. Waterman Trails, near Three Points.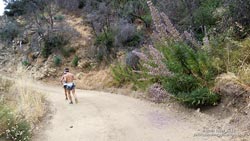 Little plants like these can grow to be monster-sized, like these along Edison Road, below Shortcut Saddle.
The title photo was taken on a run around Mt. Waterman from Three Points on May 29, 2011 and the photo of the monster-sized Poodle-dog bush was taken on a Mt. Disappointment 50K training run from Shortcut Saddle on July 31, 2011.
*The taxonomic name for Turricula parryi (Poodle-dog bush) has changed to Eriodictyon parryi. The Jepson Manual: Vascular Plants of California, Second Edition (2012) has returned Turricula to the genus Eriodictyon, as originally described by Gray. According to the Wikipedia entry for Turricula (April 11, 2012), "… molecular phylogenetic analysis carried out by Ferguson (1998) confirms that Turricula should be treated as a separate genus within a clade (Ferguson does not use the term "subfamily") that includes Eriodictyon, and also the genera Nama and Wigandia; Eriodictyon is the genus to which Turricula is closest in molecular terms, and is its sister taxon." I use "Turricula" and "Poodle-dog bush" interchangeably as a common name.
Related posts: Contact Dermatitis from Eriodictyon parryi – Poodle-dog Bush, Getting Over Poodle-dog Bush Dermatitis, Trail Runners Describe Reactions to Poodle-dog Bush