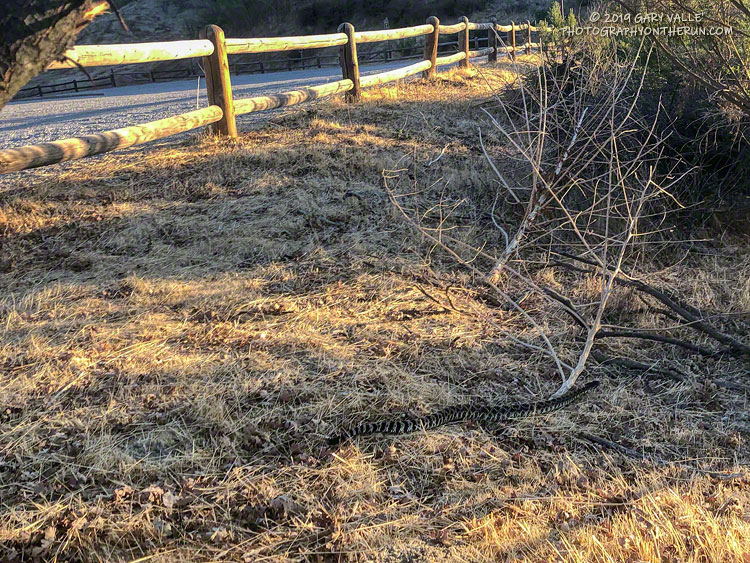 I pressed the START/STOP button on my Garmin watch and started to walk over to the horse/hiker entrance at the Victory Trailhead of Upper Las Virgenes Canyon Open Space Preserve (Ahmanson Ranch). This "end of an Ahmanson run" routine is something that I repeat around 150 times a year. It's so routine, it's rote. I'm not thinking about rocks or ruts, or how far I have to go. It's a time I can relax and reflect on the run, the weather, or whatever.
Continuing toward the trailhead entry, I pulled the water bottle from my pack. Lifting my head to take a drink, and still on auto, I began to step over the first of two large wooden beams forming the entrance.
Some primitive, protective mechanism recognized the threat before I did, and I stopped mid-stride. Then it registered — a sizable Southern Pacific rattlesnake was undulating through the boxed-in area between the two beams of the entryway.
Moving quickly through the entry and into the grass, the snake barely reacted to me. With single-minded resolution, it continued on a beeline toward the brushy area near the trailhead. A single shake of its rattle was all the bother I was worth. Here's a short video of the Southern Pacific rattlesnake at the Ahmanson Ranch trailhead.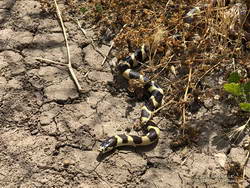 Surprisingly, this was the first rattlesnake I've seen this year at Upper Las Virgenes Canyon Open Space Preserve . I've seen numerous gopher snakes, a couple of California kingsnakes, a California whipsnake, and the tracks of many rattlesnakes, but no actual rattlesnakes. Others have described various rattlesnake encounters at Ahmanson — one friend saw three on one ride!
Note: Most of these snakes were old enough to have survived the November 8, 2018, Woolsey Fire.
Some related posts: The First Snakes of Spring, Big Southern Pacific Rattlesnake at Ahmanson Ranch, Southern Pacific Rattlesnake