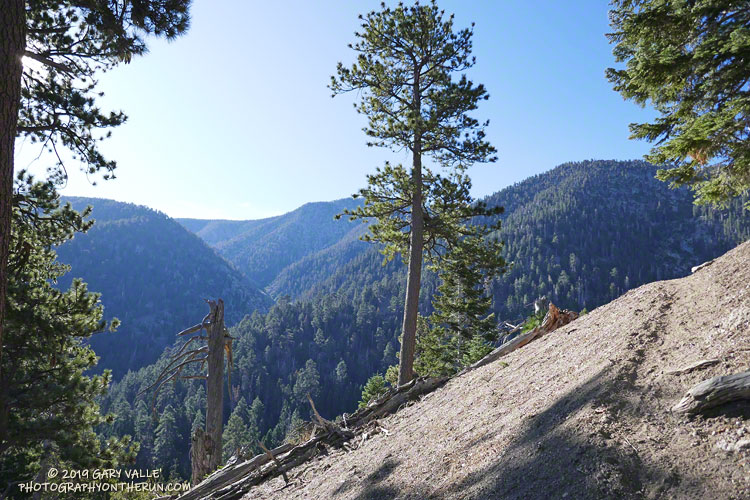 Wow, what a fantastic trail, canyon, and morning!
The view above is from the John's Meadow Trail, a circuitous trail that winds its way through a less-traveled part of the San Gorgonio Wilderness.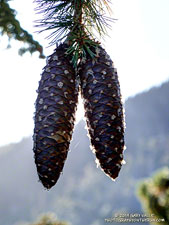 The prominent canyon in the photo is home to Forsee Creek. During the last ice age, it held one of San Gorgonio's small glaciers. I'd just crossed the Forsee Creek a few minutes before, and in a few hours would run past its source high on the crest — Trail Fork Springs.
The peak at the head of the canyon is East San Bernardino Peak (10,691′). Its summit marks the crest of the divide and the location of the San Bernardino Peak Divide Trail. That's where I was headed, but the path would be anything but direct.
From the Forsee Creek crossing at 7270′, the John's Meadow Trail climbs about 1000′ in 2.3 miles to join the Divide Trail at "wheelbarrow junction," about 5 miles west of East San Bernardino Peak. From that point I worked up the popular and scenic Divide Trail, visiting Limber Pine Bench (9330′), Washington Monument (10,290′), and San Bernardino Peak (10,649′) along the way to East San Bernardino Peak.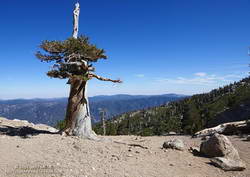 Using this roundabout — but very scenic — route, it took me about the same time to reach San Bernardino Peak from the Forsee Creek Trailhead as it does to do San Gorgonio Mountain from the South Fork Trailhead. From San Bernardino Peak it's a little less than a mile to East San Bernardino Peak and from there only about 0.75 mile to the lateral to Trail Fork Springs.
From the westernmost Trail Fork Springs junction with the Divide Trail the theme was downhill, downhill, and more downhill — about 3800′ of downhill over 6.7 miles.
The running on the Forsee Creek Trail was generally very good. I was glad I did the loop counterclockwise. The John's Meadow Trail and its extension are enjoyably primitive — they appear to be "use" trails that have evolved over time. On the other hand, the Forsee Creek Trail is a constructed trail. It was designed as a pack trail, so is generally well-behaved. Great for going down, but a long haul up with a heavy pack!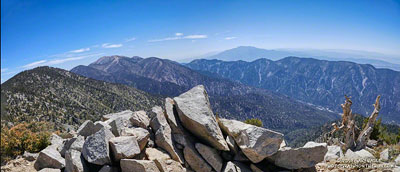 Here are a few photos taken along the way, and here is an interactive Cesium ion view of the GPS trace of my route. The 3D view can be zoomed, tilted and panned.
Note: Water is generally more reliable and accessible on the John's Meadow Trail than on the Forsee Creek Trail. Trail Fork Springs and Jackstraw Springs are seasonal water sources that may not have water. Check with the Mill Creek Ranger Station for the current conditions and more info.