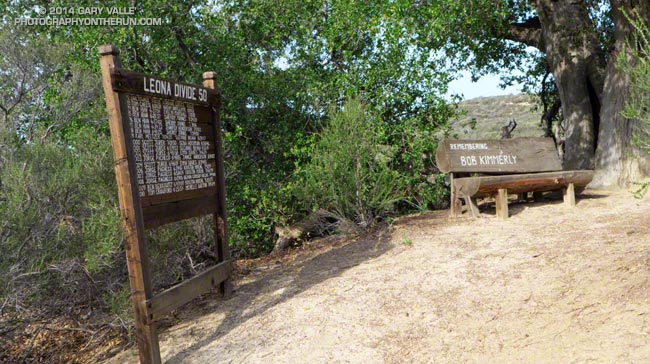 It had been "a while" since I'd run this segment of the Pacific Crest Trail. This photo will give you an idea of just how long. That year January was warm and dry and none of the local creeks had enough water to kayak, so Gary Gunder and I were doing a lot of running. Two of the most enjoyable runs we did were the segments of the PCT from Pine Canyon Rd to Lake Hughes Road (FS 7N05) and Lake Hughes Road to Sierra Highway in Aqua Dulce. These PCT segments are closely associated with the Leona Divide — both the race and geographic feature — and include some of the fastest single track trail in Southern California.

Today I was back in the Leona Divide neighborhood and getting reacquainted with the stretch of the PCT between Bouquet Canyon Road and San Francisquito Canyon Road. Bouquet Canyon Road is the turnaround point for the 2014 Leona Divide 50 mile and this 13 mile stretch — done on the way out and the way back — makes up most of the single track trail on the course.** With the Leona Divide 50/50 coming up April 26 a number of runners (Karl, Dave #1, Matt, Dave #2 and others) were also out on the trail.
This section of the PCT is about as non-technical as a single track trail can be. It's generally in very good shape with surprisingly few rocks, technical obstacles, or steep hills to slow you down. Most of the trail is in chaparral, out in the open, and on sun-facing slopes. The elevation ranges from about 3300′ to 4300′. Trail mileages are close to what the trail signs advertise — about 7 miles between San Francisquito Canyon Road and Spunky Edison Road, and 6 miles between Spunky Edison Road and the 50 mile turnaround at Bouquet Canyon Road.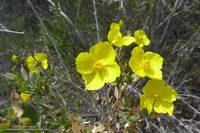 The weather could not have been better for today's run. Some shaded sections of trail were lush and green from recent rains and in places yellow bush poppy, blue Phacelia, purple chia, scarlet bugler and other wildflowers bloomed along the trail. The midday temp was in the 60s at the Grass Mountain RAWS (just off the PCT near Leona Divide Road). The temps at this weather station were in the 80s during last year's Leona Divide 50/50 when "in the sun" temps reached over 100 degrees.
In today's cool conditions it was a long run kind of day, and the 26 miles were about as enjoyable as a longer trail run can be.
**Note: The 50M and 50K courses have been rerouted. See the Leona Divide 50/50 web site and the related post Up and Over Sierra Pelona Ridge.