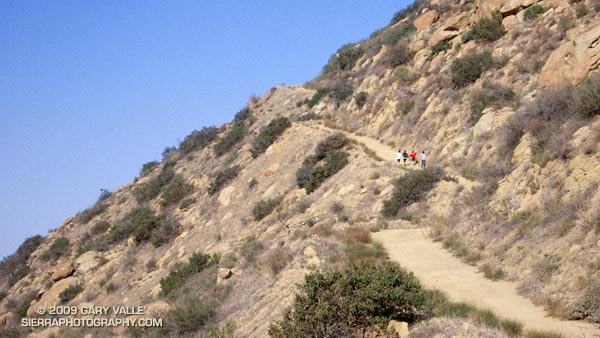 Steep climb on the Bandit 30K and 14K Courses.
Low clouds cling to the slopes of Rocky Peak, and a cool downslope breeze stirs through the runners gathered at the start line in Corriganville Park. Three… A race organizer holding a "turn on your Garmin" sign is counting us down. Two… Runners anxious to get on the course collectively take a deep breath. One…  Go! The first steep climb is just minutes away…
You never know what you're going to get in the first edition of a race, but in this case the Bandit 30K/14K organizers appeared to have considered every detail. Check-in went smoothly, the race started precisely at 8:00 a.m., the course was challenging and well-marked, aid & water was where it was needed, volunteers were great, and the finish line had an assortment of tasty treats!
Overall, elite mountain runner Jon Clark edged Kevin Gillotti and Jason Perez, winning the 30K in 2:22:29 — averaging 8 minute miles over the demanding course. Among the women, Lisa Fink placed first, finishing in a time of 3:08:28. In the 14K, women took two out of the top three places, finishing first and third. Jen Todd was first in 1:15:22, followed by Karl Bowers and Meredith Davidson. Results and photos are available on the Bandit 30K/14K web site.
Many thanks to the Bandit Race Committee — Randy & Sarita Shoemaker, Larry Lee, and Todd Baker — and all the volunteers and sponsors for a great race! Also, thanks to Tommi Diaz for her photos of the 30K.
Here's a Google Earth image, Google Earth KMZ file, and Cesium browser view  of my GPS trace of the course.
Update 12/09/10. The date of the 2011 Bandit 15K/30K is Sunday, February 20th. A 50K distance has been added!
The photo of runners on Rocky Peak Road is from a run in November 2007.
Some related posts: Bandit 30K Course Preview, Las Llajas Hill 2484, Running Rocky Peak Road, Chumash Trail Rocks & Snow