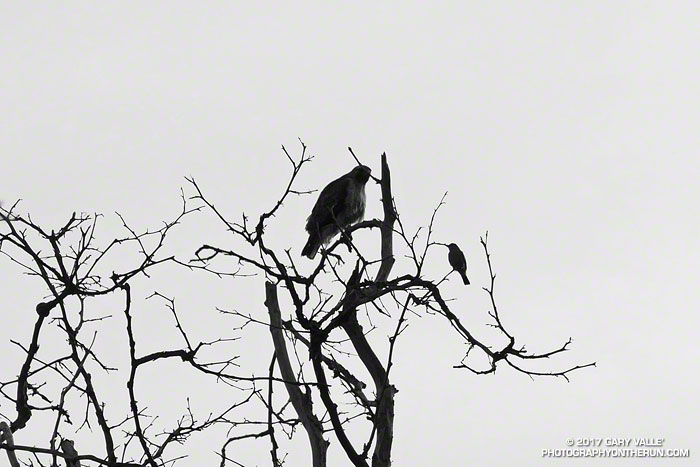 Running along the recently repaired Blue Canyon Trail, I stopped to photograph a hillside of poppies. The shrieking, piercing cry sounded like it was just a few feet above me, and reflexively I ducked and looked upward. A large red-tailed hawk flew from the top of a sycamore tree to another tree. Just as I started to relax, there was another shriek, and another red-tail flew from the same tree.
These were loud, aggressive calls and reminded me of an unusual encounter some years ago with a red-shouldered hawk and a bobcat. Noting the nest at the top of the tree I assumed the birds were upset that I stopped by their tree. I snapped a quick picture of one of the red-tails and headed on down the trail.
As with the encounter with the red-shouldered hawk, there was an edge to calls of the red-tails that seemed urgent, and it wasn't until I examined the photos later I saw their ire might have been directed at something else.
The silhouette of the smaller bird looks like it might be a flycatcher — maybe a western kingbird. Red-tails are the star cruisers of the local bird world and it's not unusual to see smaller birds harass them relentlessly like so many X-wing fighters.
According to Cornell Lab of Ornithology's All About Birds, "Western Kingbirds are aggressive and will scold and chase intruders (including Red-tailed Hawks and American Kestrels) with a snapping bill and flared crimson feathers they normally keep hidden under their gray crowns." A search online found numerous reports of kingbirds harassing red-tail hawks.