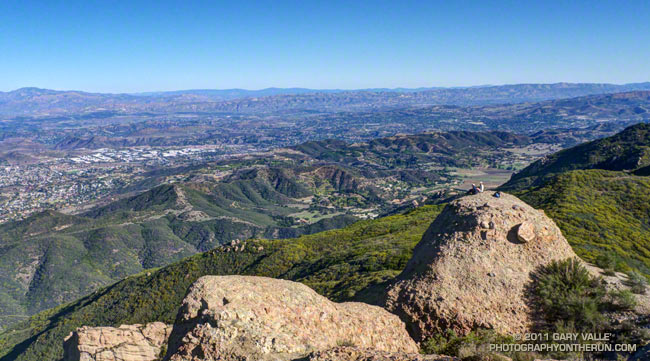 This morning did the Boney Mountain north side loop with Tom and Elisa, who were visiting from Idaho.
Thanks to a moderate offshore flow, visibility from the high point at the top of the ridge (2900'+) was spectacular.
Anacapa and Santa Cruz Island loomed nearby, their eastern shores only 25 to 30 miles away. To the left of Exchange Peak and about 50 miles distant, the low silhouette of Catalina seemed to hover above the shimmering ocean. A little more to the east and about 40 miles away, Palos Verdes Peninsula jutted from behind Sandstone Peak and into the Pacific.
To the north and northeast Hines Peak (27 miles) and Cobblestone Mountain (33 miles) were prominent. A little further to the east and across I-5 Liebre Mountain and Burnt Peak (44 miles) could be seen.
Many of the peaks of the San Gabriel Mountains were easily seen, including Mt. Baldy about 75 miles to the east.
The distance winner was Mt. San Jacinto, a hard to see smudge in the haze on the eastern horizon, about 130 miles away.