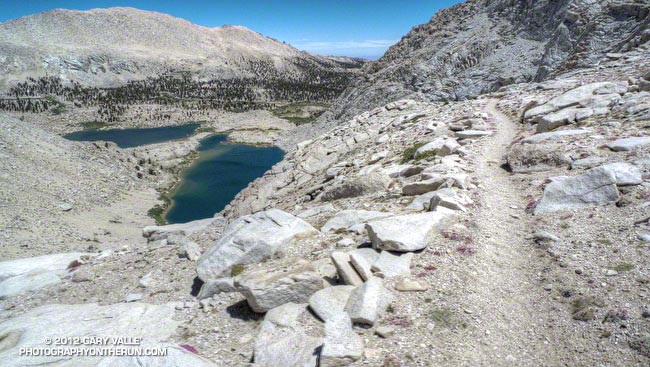 Near the Top of Army Pass
This loop is a variation of the Cottonwood Pass – New Army Pass loop. Starting and ending at Horseshoe Meadow, much of the route is the same except for the pass that is used to descend into Cottonwood Lakes Basin. The following map shows GPS tracks of the routes using Army Pass (red) and New Army Pass (blue).
From a trail running (without an ice axe) point of view the Army Pass option should only be considered after most of the Sierra snowpack has melted and the trail over the pass is free of snow. This can be very late in the Summer or in some Summers not at all. Low snowpack years are the best bet. Depending on the snowpack and time of year both Army Pass and New Army Pass can be impassable without special mountaineering equipment, skills and experience.
Built in 1892, the 120 year old trail over Army Pass is not maintained. It is most often used by those climbing Mt. Langley. Because of its northeasterly aspect there is often snow/ice on the trail and the area is prone to rockfall. The upper part of the trail follows a boulder and rubble-strewn shelf along a precipice. While the path is well-used, careful attention is required. Here's a  photo looking up the path toward the pass and a similar photo from June 2007.
Once off the pass the running in upper Cottonwood Lakes basin is outstanding. The trail circles through the talus over to the north (far) side of Cottonwood Lake #4 — the lake immediately below the pass — and then continues across a land bridge between Lake #4 and #5 to the outlet of Lake #4. From here the trail drops down to Lake #3 and after about 2.5 miles of superb running meets the trail coming down from New Army Pass.
The approximate length of the loop is about 20 miles, with an elevation gain/loss of about 3250′. Here's a Cesium browser View of my GPS track of the loop. Placemark locations are approximate.
Some related posts: Cottonwood Pass – New Army Pass Loop 2011, Mt. Langley in a Day from L.A.