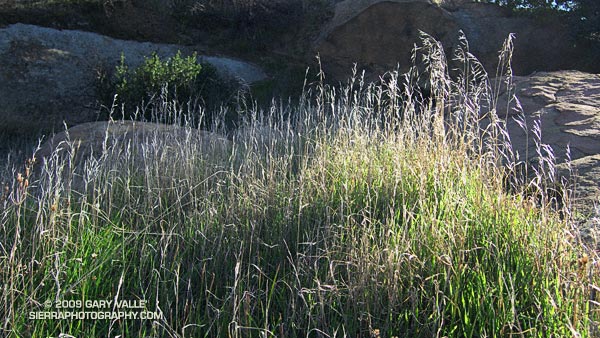 Green beneath Summer's bleached stalks, the growth of this grass at Sage Ranch reflects the near normal rain season we've had to date in the Los Angeles area, and over much of Southern California. Since the start of the water year on July 1, Downtown Los Angeles (USC) has recorded 4.66 inches of rain. When this photograph was taken, January 11th, 4.66 inches was almost exactly normal rainfall for the date.
However, as is so often the case in Southern California, this apparent normality is the sum of offsetting wet and dry periods. December's precipitation was generally well above normal, but January has been dry, dry, dry. Today, the Los Angeles rainfall total is about 0.5 inch below normal, and every day it doesn't rain, our deficit increases by about 0.10 inch.
So when might it rain? A very strong 200 kt Pacific jet stream has pushed up a high pressure ridge over the West Coast, blocking storms and warming temperatures. Big upper level ridges such as this are consistent with La Nina, and have been a recurring theme this Fall and Winter. Much of our rainfall and cold weather this season has occurred when an extended Pacific jet collapses or contracts, and a blocking ridge shifts west, opening the door to cold storms plunging down the backside of the ridge from the north.
Over the next 1-2 weeks, this is expected to happen again, but this time there is a wildcard in the mix. One of the reasons the Pacific jet is so strong is the active phase of the Madden-Julian Oscillation (MJO) is present in the Western Pacific. As described in this Climate Prediction Center document, this scenario sometimes leads to a heavy West Coast precipitation event.
It's too far out for the medium range models to be of much help in assessing the likelihood of such an event developing. At the moment, about the only thing that can be said with some certainty is that a pattern change is in the works, and by the end of January there is a chance of some rain in California and the West. We'll see!
Related post: Southern California 2008-2009 Winter Precipitation Outlook, Snow on Oat Mountain