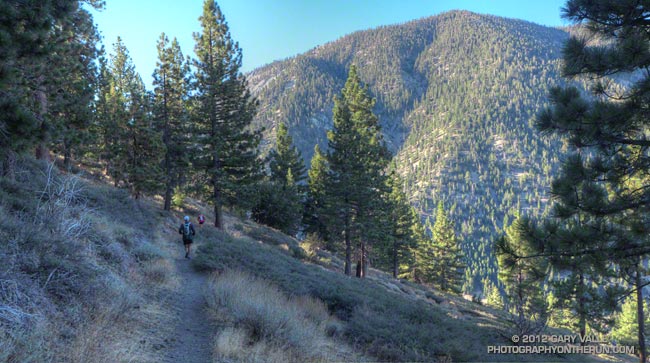 Slopes of Mt. Baden-Powell from the PCT Above Vincent Gap
The run from Inspiration Point to Eagle's Roost on the Pacific Crest Trail is one of the best 20 mile trail runs in Southern California. Along the way are great views, old growth forests, ancient trees, an ice-cold spring, and a 2800′ climb to the summit of Mt. Baden-Powell.
One of the most popular peaks in the San Gabriel Mountains, Mt. Baden-Powell (9399′) is well-known for its association with scouting. It is a favored peak of hikers, ultrarunners and backcountry skiers alike. The question isn't if you've climbed Baden-Powell, but how often you've done the peak — and for many of us it's too many times to count.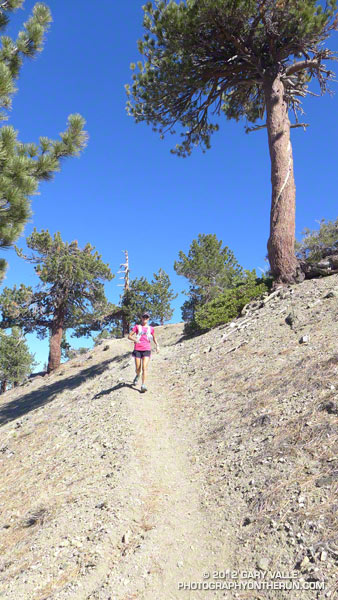 Ann, Craig and I were at about mile 4.5 of the run. We had just descended from Blue Ridge to Vincent Gap and were starting the climb up Baden-Powell. I swore. I could not believe what I was seeing. Someone had spray-painted a large white numeral 7 on a rock at a switchback. Are you kidding? One was too many — were we going to see spray-painted switchback numbers on rocks and trees all the way up the peak?
Nearly thirty switchbacks later the numbers — painted mostly on trees — continued and so did my swearing. Who would do such a thing? How could anyone think this was an acceptable or beneficial thing to do?
The explosion of outrage in the outdoor community was like a fiery supernova. I made some inquiries and was told that an older, neatly dressed man had been seen painting the numbers on Sunday, October 14. Reportedly the man was asked to stop, but refused. Maybe at some point saner minds prevailed because the numbers stopped (I think) somewhere around 27. In any case the damage had already been done.
We did this run last Saturday. The good news is most of the numbers have already been removed. (Thanks David!) Last I heard only two difficult to remove numbers remained, and I'm guessing those will disappear soon.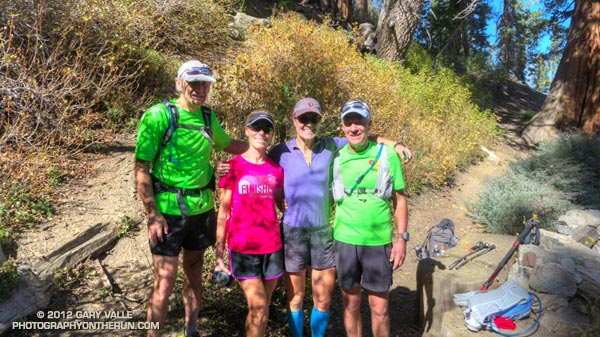 Things do seem to balance out, and as vile as the spray-painted trees were, there was an offsetting positive force in the forest that day, and we met her at Little Jimmy Spring. Leslie (Banff Trail Trash) looked like she was out for a mile or two stroll. But she had been on the trail since the beginning of August and was at about mile 2275 of the PCT! Effusive and exuberant, her enthusiasm was contagious.
For the remainder of the run we put aside thoughts about spraypaint, and just enjoyed being in the mountains.
Some related posts: Inspiration Point to Islip Saddle Trail Run, PCT from Inspiration Point to Islip Saddle