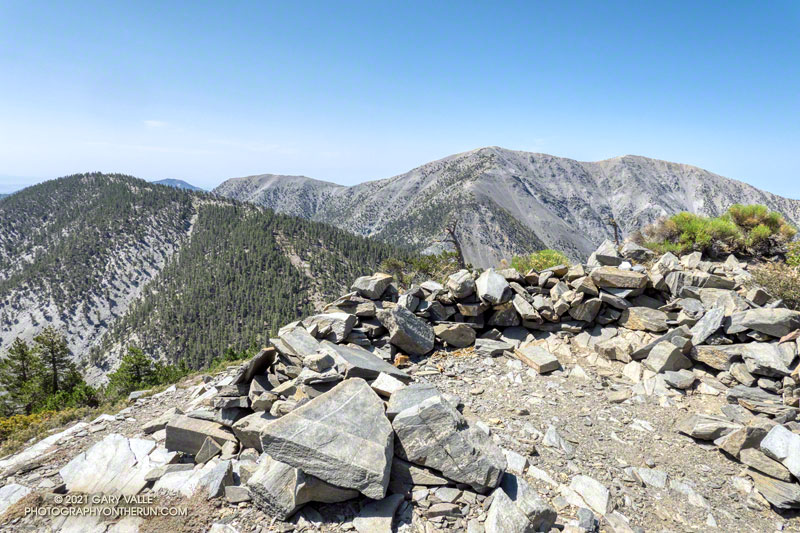 This 17 mile trail run and hike is a longer version of the Inspiration Point to the Pine Mountain Juniper adventure run. Additional details and photos can be found in that post.
The adventure combines a seven-mile run on the PCT along Blue Ridge with a strenuous 1.5 mile, 1500′ climb up the North Backbone Trail to the summit of Pine Mountain (9648′). The Pine Mountain Juniper, estimated to be 800-1000 years old, is found at the 9000′ level of the North Backbone Trail.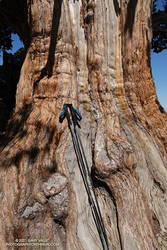 On the way out I was glad to see the PCT had been rerouted around a steep, rocky stretch of trail below Mountain High West's snow-making pond. I stayed on the PCT except for a very short section of dirt road between the top of the Acorn Trail and the overlook of the huge Wright Mountain landslide scar. The single track is more pleasant, and I didn't have to worry about vehicles or their dust. I left the PCT when I was directly above the North Backbone Trailhead. A short path descended to the road.
The North Backbone Trail was as steep as it has always been. It's not a constructed and maintained trail, but one that has evolved through use. Stretches of it are very steep, loose and rocky. The tree on Point 8555 that was struck by lightning in 2006 has finally fallen. There must be a lot of lightning activity here because a nearby pine had been recently struck by lightning.
The North Backbone Trail seems to be getting more attention these days. This adventure could be extended to include Dawson Peak and Mt. Baldy. A similar route was part of the 44-mile Big Pines Marathon — possibly the first mountain ultra in the U.S.