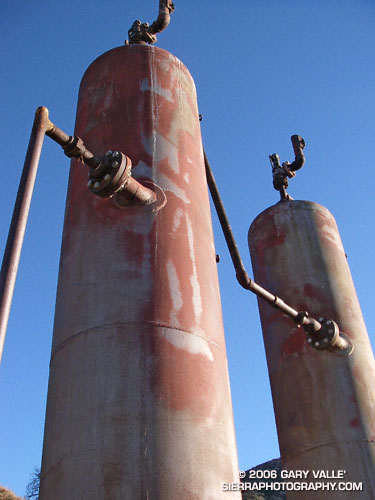 In addition to the Chumash-Hummingbird loop, another good trail run in the Rocky Peak Park area is the Chumash-Las Llajas loop. Both loops are about 9.2 miles long, have a mix of dirt road and technical single-track trail, and include some strenuous climbs. The Chumash-Las Llajas loop has less elevation gain/loss, and if you run the loop counter-clockwise, the downhill in Las Llajas Canyon makes for a fast-paced 4 mile descent.
I like to do the loop starting at the Las Llajas Canyon trailhead on Evening Sky Dr. A short jog to the east end of Evening Sky Dr., and across a field, and you're on your way up the Chumash Trail. Here's a Google earth image and Google Earth KMZ file of a GPS trace of my usual route, and another view of part of the route from near the high point on Rocky Peak Rd. (It is also possible to start the loop at the Chumash Trail trailhead at the end of Flanagan Dr.)
At Rocky Peak Road's high point is an outcrop of fossil shells. According to the Dibblee geology map of the area, these may have been deposited in shallow marine lagoons a couple million years ago. There is a year around creek in Las Llajas Canyon, and the complex oil field geology is very different from the sandstones along the Chumash Trail and Rocky Peak Rd.
The last time I did this loop, I had run just turned off Rocky Peak Rd. and was working up toward a hilltop to an old oil field service road, when I heard the unmistakable rat-a-tat-tat of a dirt bike. Bike #1 popped over the crest of the hill, and as we passed I asked with a hand signal if there was a second bike. There was. We avoided each other and I continued over the hill and down the road.
A couple hundred yards down the road from the crest of the hill, I found this kangaroo rat. It could not have been dead for long. It was larger than I expected, and had remarkable coloration.
The photographs of the out service tanks and the kangaroo rat are from a run on November 11, 2006.
Related posts: Chumash Trail Snow, Chumash Rock, Chumash View, Oat Mountain Snow, San Fernando Valley from Rocky Peak.