It's funny the things you think about during a race. Running down the Chumash Trail in the Bandit 30K on Saturday, one of my thoughts was, "Wow, these may be the most comfortable trail shoes I've ever run in."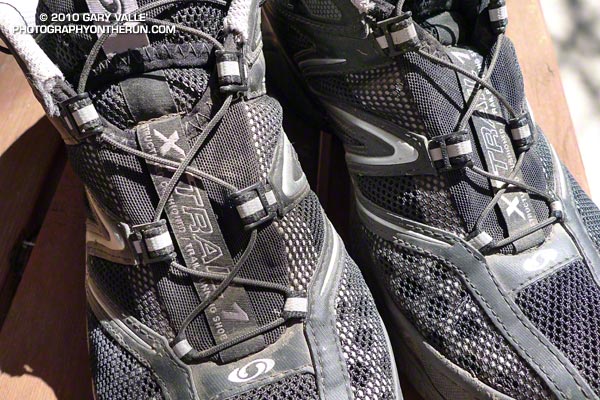 I purchased my XT Hawk 2's from Zappos a couple of weeks ago. Right out of the box there were several things I liked about the shoes:
They are light. My pair of US size 9's tipped the scale at a light 22.3 oz. This is about the same as the Salomon SpeedComp. 

The shoes fit well. No weird seams, pressure points or other problems.

The

updated speed-lacing system

is symmetric. It has no offset lace anchor across the toe, and uses a new eyelet design. I've never had Salomon speed-lacing fray on shoes with symmetric lacing, and the new eyelet should make the laces even more bombproof.

The outsole looks nearly identical to the sole on the XT Wings, which in my experience provides a good balance of traction versus predictability.
Out on the trail, the first thing that stood out was the shoe's cushioning. It feels like the shoe has more cushioning than either the original XT Wings or SpeedComp. The heel is particularly well cushioned, but for mid-foot strikers like me, there is also plenty of forefoot cushioning.
 
What I didn't notice until I was running down the irregular surfaces of the Chumash Trail is how the XT Hawk 2's combination of flexibility, support and cushioning combine to produce a really comfortable ride. Based on the shoe's performance on the Bandit's tough 19.5 mile course, I'm looking forward to trying the shoe on some longer mountain runs or races.