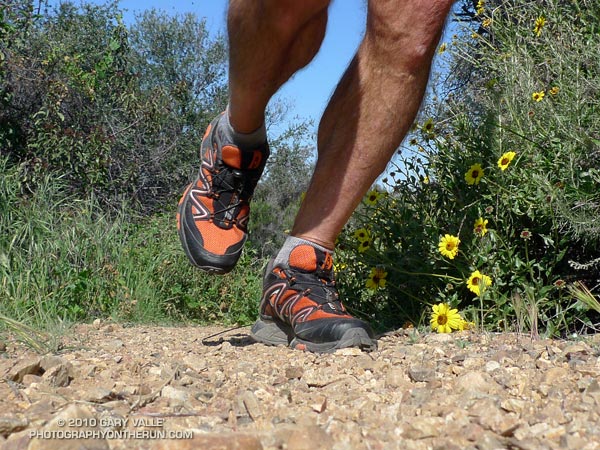 Wow — what a great ride! That was my impression the first time I used the Salomon XT Wings trail running shoe, and seven pairs and a couple thousand miles later, the XT Wings is still my shoe of choice for longer trail runs. Now the shoe has been upgraded to the XT Wings 2, and the good news is Salomon listened to the feedback from runners, and made a very good shoe even better.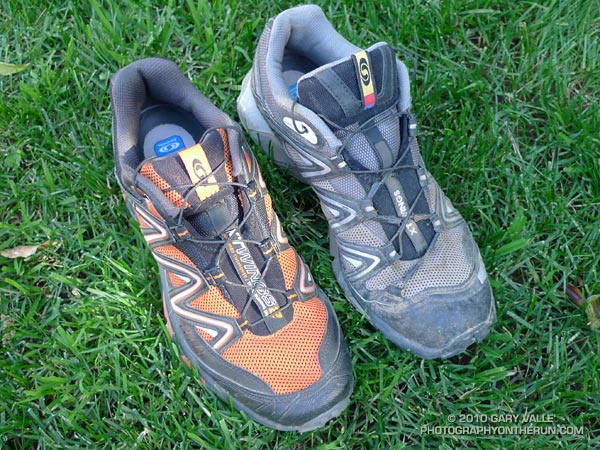 One of the most obvious changes in the XT Wings 2 is the change from an asymmetric speed-lacing system that would sometimes fray, to a symmetric speed-lacing system with lower friction eyelets. None of my Salomon trail shoes with symmetric lacing have had lace-fraying issues, and these new laces look bombproof!
Update 07/05/10. I now have about 190 miles on each of three pairs of Salomons with the the new eyelets (XT Wings, XT Wings 2 & XT Hawk 2), and I've had no problems with the laces fraying.
Not so obvious until you run in the shoe is the redesign of the toe cap to increase flexibility. I thought the gait transition was smooth in the original XT Wings, and it is even better now. I was also happy to find that my new pair of XT Wings 2 (US Size 9.0) weigh 26 oz., which is a bit less than my first pair of XT Wings.
The shoes felt great on Sunday's Trippet Ranch loop; they had that familiar XT Wings' combination of comfort, smooth ride, cushioning, traction and support.
Related posts: Salomon XT Hawk 2, Salomon XT Wings