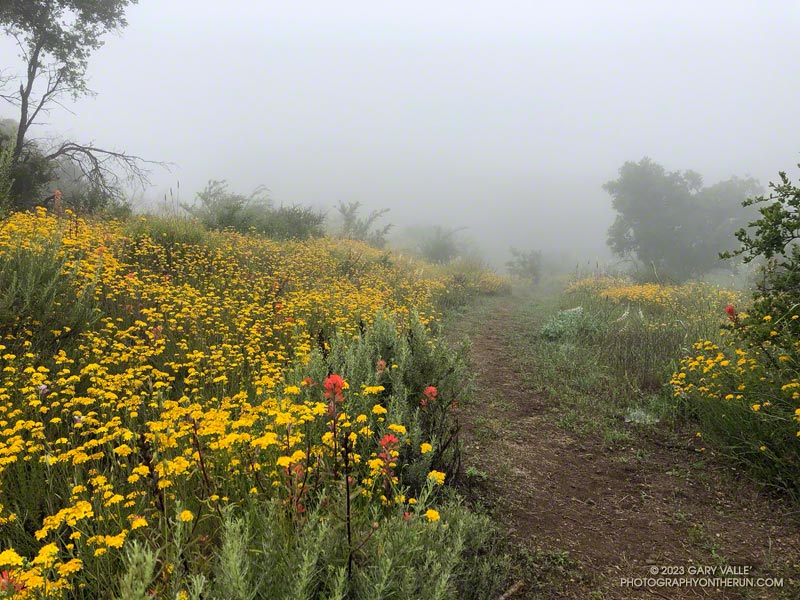 Starting at the Wendy Drive Trailhead, I'd crossed Satwiwa, run down Danielson Road, rock-hopped across Upper Sycamore Creek, and picked up the Old Boney Trail. The condition of the Old Boney Trail between Danielson Road and the Fossil Trail junction was better than expected. Maybe the trail was going to be in good shape after all.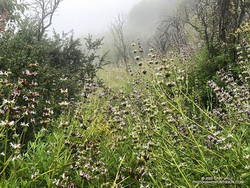 Wrong! Once I passed the turnoff to the Fossil Trail, the vegetation closed in. In places it was so thick I couldn't see the trail at my feet, much less a few yards ahead. All I could do is smile and work my way through it. Everything was overgrown — bushes, grasses, wildflowers. And everything was wet with dew. A hundred yards past the Fossil Trail, I was soaked from head to toe.
I tried to see the positive. It was an amazing display of the effect of a wet rainy season. Without trail work and use, it wouldn't take long for the trail to be completely consumed.
The Old Boney Trail continued to be a tangle of chaparral for about two miles — until I reached the Backbone Trail at Blue Canyon. At that point, it becomes part of the Backbone Trail system, and I was relieved to see that some work had recently been done on the trail.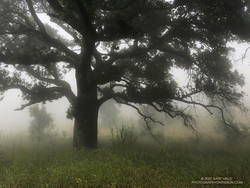 As I worked up the Backbone Trail toward the Chamberlain Trail junction, I recalled other times I'd run to Serrano Valley using Old Boney. What would the condition of the trail be beyond this point? I'd been on that part of the Old Boney Trail following a wet rain season and knew how overgrown it could be. Some refer to that section of trail as "tick alley."
But when I got to the junction, surprise, surprise, the Old Boney Trail had been trimmed. More than two miles of trail were groomed. It was good all the way to the Serrano Valley Trail and partway into Serrano Valley. The trail in Serrano Valley was a little overgrown, but NOTHING like the Old Boney Trail between the Fossil and Backbone Trails.
Part of the fun of doing this route is all the stream crossings in Serrano Canyon — what is it 13 or 14? Today, most of these could be done without getting your shoes wet — especially if you have poles. I didn't have poles, and my shoes and socks were already wet, so I didn't worry about keeping them dry. Some sections of the Serrano Canyon Trail were also overgrown, but not bad. However, there was a lot of poison oak, some of which wasn't avoidable.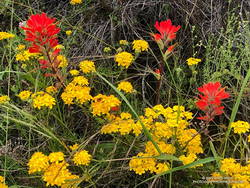 After getting a drink of water at the faucet at the junction of the Serrano Canyon Trail and Sycamore Canyon Fire Road, I headed up-canyon. Almost immediately, the fire road crossed Big Sycamore Canyon Creek. I did this first crossing without getting my shoes wet, but nine more crossings followed, and most resulted in soaked shoes. The water crossings and wildflowers helped distract me from the five mile run up Sycamore Canyon to the Upper Sycamore Trail.
Getting off Sycamore Canyon Road and onto the Upper Sycamore Trail was a relief. Whatever run I do from Wendy Drive, I always finish it via this trail. The trail gets enough use that it was in good shape. This time all the creek crossings could easily be rock-hopped.
Even with a few tedious sections, it was an adventurous and mostly enjoyable 20 miles. Here are some photos taken along the way.
Some related posts: Old Boney to Serrano Valley, Plus Fireline and Overlook; Looking for Ogres in Serrano Canyon; Running to Serrano and La Jolla Valleys from Wendy Drive; You Can't Run Just Part Way Up Serrano Canyon