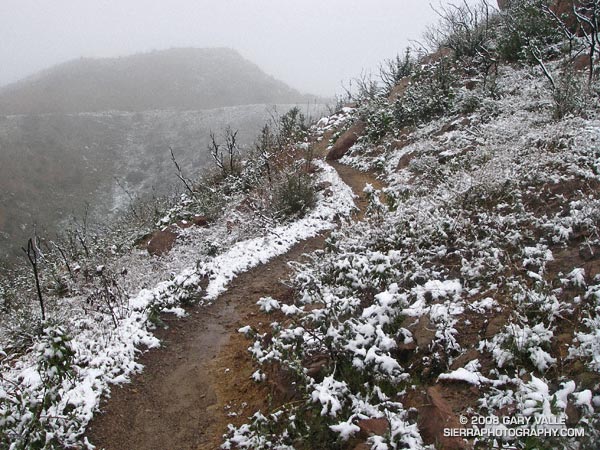 Without a doubt the Chumash Trail is my favorite short "after work" trail run. Popular among hikers, mountain bikers, and runners, the Chumash Trail starts on Flanagan Drive in the eastern Simi Valley, and ascends the convoluted western flank of Rocky Peak Park to Rocky Peak Fire Road. It's single track trail all the way, gaining about 1150′ over 2.6 miles.
From a trail runner's training perspective, it is a nearly ideal short, technical, higher heart rate workout. Overall, it's very runnable. When I'm chugging up the trail, it seems just about the time my heart rate is going to go lactic, the trail will back off or contour. Because I usually run the trail near my aerobic maximum, it's a great indicator of where I am in my training. Over-training, or any other fitness issue, is usually plainly — and sometimes painfully — evident.
In many ways running down the Chumash Trail is more difficult than running up.  It can be very challenging to run down a rocky, technical section of trail with any speed. Running a trail like the Chumash Trail can help develop the skill and strength necessary to do downhills with better technique and more speed.
I don't think I've ever run this trail fresh, but a couple times a year, when my legs feel good, it's fun to really push the Chumash Trail up and down. Like most running, there's a balance — push too hard on the up and there won't be enough left to push the down.
Here's a Google Earth image and Google Earth KMZ file of a GPS trace of the trail.
The photograph for today's post was taken near the top of the Chumash Trail in March 2006. You won't find any of that white stuff on the trail today, but just the thought might help deal with the heat!
Some related posts: Chumash-Las Llajas Loop, Chumash View, Chumash View II, Tarantula Hawk, Canyon Sunflower, Eastwood Manzanita, Chumash Trail Snow