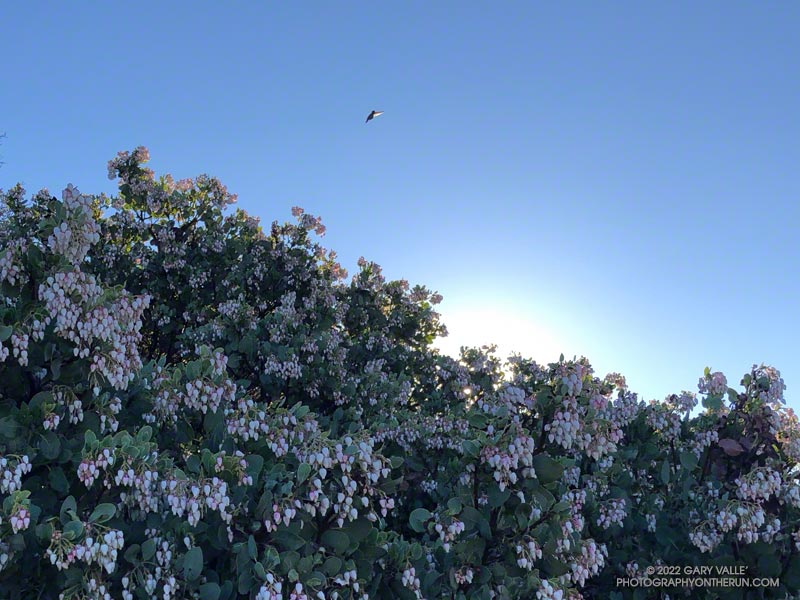 From a hummingbird perspective, it was the perfect place to spend a cold night.
The big berry manzanita was situated on the spine of a north-south oriented ridge near Topanga Lookout. In that location, a bird might benefit from the warmth of both the setting and rising sun.
In addition, the bush's thicket of stiff branches afforded some protection from predators, and the multitude of nectar-rich blossoms would provide a badly needed boost of wake-up energy.
The temperature was warmer now, but it had been near freezing at the Cold Canyon trailhead when I started the Topanga Lookout Ridge loop. It had been cold enough that I had jogged the steeper sections of Calabasas Peak fire road, just to ward off the chill.
Humans are funny that way — a small drop in body temperature can be life-threatening. How in the world can a diminutive hummingbird, whose caloric needs require it to feed almost constantly, survive a long, cold Winter night?
Research reveals that hummingbirds accomplish this feat by reducing their body temperature and metabolic rate. This physiological state — called torpor — dramatically reduces their energy requirements.
This particular manzanita apparently receives a lot of 5-star reviews, and at the time I passed, was occupied by several buzzing birds.
From Sunday's run of the Topanga Lookout Ridge loop.
Related post: Hummingbird Stories