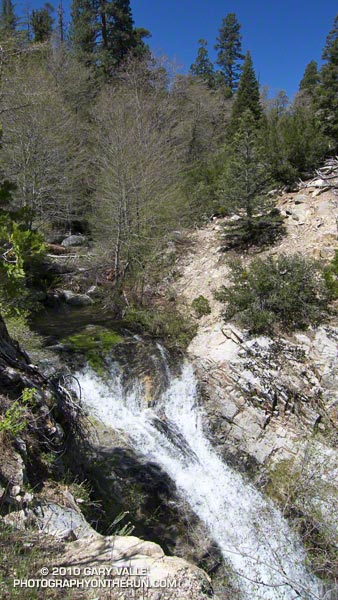 From today's out and back run from Cloudburst Summit (7018′) to Burkhart Saddle (6959′) in the San Gabriel Mountains, near Los Angeles.
The running was excellent, and except for a few fallen trees the trails were in good shape. Thanks to the runoff from a good Winter's snowpack there was plenty of water in Little Rock Creek, and even the smaller side streams were flowing. Most of the snow below 7000′ was history, but there was still a lot of white on the north facing slopes at the higher elevations.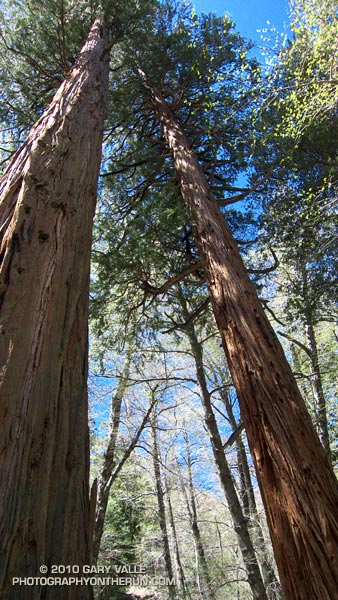 The trailhead for this run is on Highway 2 at the boundary of the area closed by the Station Fire Recovery Order. The run follows the southbound Pacific Crest Trail, and northbound Burkhart Trail, which define the eastern boundary of the closure area north of Highway 2.
Update May 29, 2010. Angeles National Forest has issued Forest Order 01-10-02 redefining the Station Fire closure area. The southbound Pacific Crest Trail, and northbound Burkhart Trail no longer define the boundary. See the Angeles National Forest web site and this May 29, 2010 post for more info.
From Cloudburst Summit, the southbound PCT winds down into Cooper Canyon, and eventually joins the Burkhart Trail, just west of Cooper Canyon Falls. In about a quarter-mile, the trail crosses Little Rock Creek. Here, the northbound Burkhart Trail forks left from the (closed) PCT, and continues 3.75 miles to Burkhart Saddle.
Here is an HD video snapshot of Cooper Canyon Cascade and Falls.
Note: The PCT northbound has been rerouted at Islip Saddle. See the Pacific Crest Trail Association web site for more info. Also, the PCT trail segment between the Burkhart Trail and Eagle's Roost is within the area closed by the Williamson Rock Closure Order.
Some related posts: Cooper Canyon Falls, Cool Running in Southern California, Pleasant View Ridge Snow