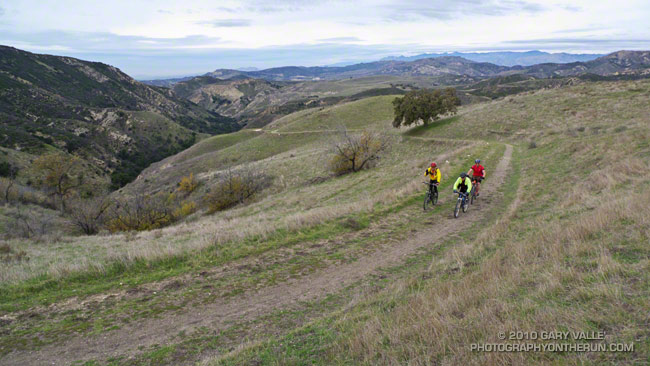 Ran a variation of the Chumash-Las Llajas loop this morning. One of the reasons for the run was to check out one of the larger vernal ponds in the Rocky Peak area and see if it had water. It didn't.
Another reason is the loop is part of the grueling Bandit 30K/50K course, and the February 20th race date will be here before we know it.
The hill the MTBers are cranking up covers about miles 12 to 13 on the Bandit 30K course, and follows a gradual — but long — uphill in Las Lajas Canyon that gains 600′ of elevation over 3 miles. It's just one of the fun parts of a tough 30K course, and 50Kers get to do it twice!
Here's a Google Earth flyover of the Bandit 30K course, created from a GPS trace of the 2010 race.
Some related posts: Bandit 30K Course Preview, Running Rocky Peak Road, Bandit 30K 2009, Bandit Country