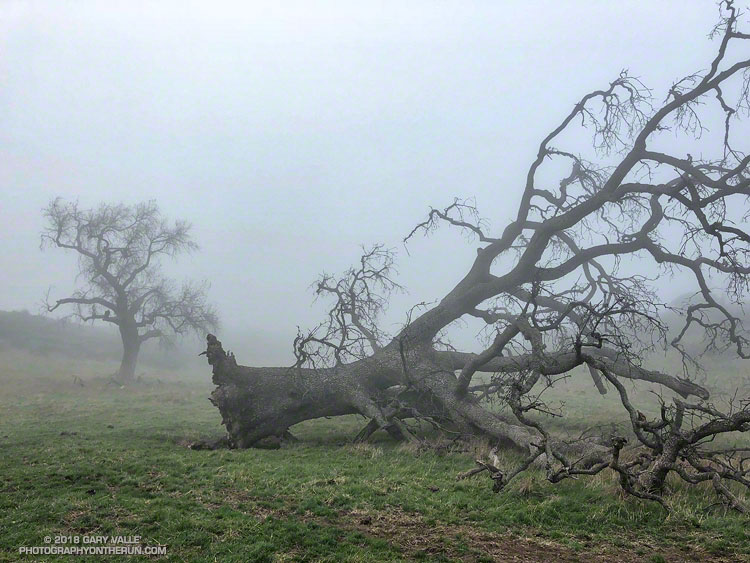 The valley oak pictured above — one of the larger oaks along Rocky Peak fire road — toppled over in the summer of 2016 following five years of drought.
Fire and drought are a natural part of the valley oak's habitat and the trees have evolved to withstand ordinary variations in their environment. However, severe fires or extended droughts, or fire in combination with drought can overcome the tree's defenses.
The drought may have been the culminating factor in the felling of this oak, but fire and other factors may have also played a role.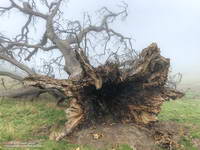 According to the Fire Effects Information System (FEIS), the heart-rot fungus Armillaria mellea is usually present in valley oaks and larger oaks tend to be hollow or rotten in the center. The toppled oak was hollow near its base and its interior appears to have been blackened by fire. The FEIS describes instances where the decaying wood in the interior of older valley oaks could ignite in a fire, but leave the exterior bark uncharred.
What fire might have burned the tree? There are two possibilities: the 2008 Sesnon Fire and the 2003 Simi Fire. It probably wasn't the Sesnon Fire — this photo of the tree, taken about a month after the Sesnon fire, shows little impact. I couldn't find a photo of the tree following the Simi Fire, but photos taken nearby show a severely burned landscape.
Ultimately, it appears fire and drought weakened the tree, accelerating its heart rot and weakening its roots to the point it could no longer support itself.
Photos of the fallen tree are from this morning's foggy run along Rocky Peak fire road.
Related post: Chumash Trail – Sesnon & Simi Fires