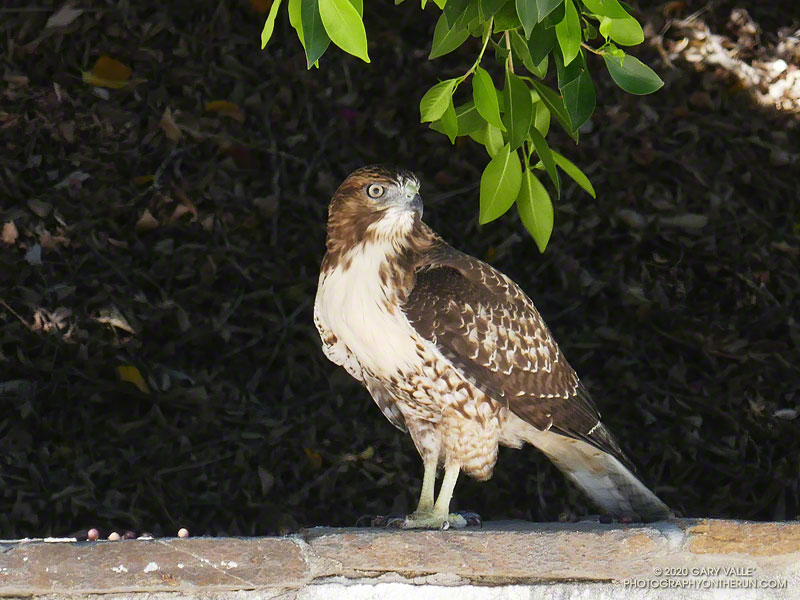 Sometimes the behavior of wildlife is difficult to explain.
I'd just finished my run at Ahmanson (Upper Las Virgenes Canyon Open Space Preserve) and was walking back to my car. I was about halfway between the dirt parking lot and entrance gate when suddenly, a large hawk swooped directly in front of me.
Incredibly, I was looking down on the bird! Banked to the left, it was below waist-level and turned around me like I was a pylon at an air race. It was so close I felt I could have reached out and touched its wing.
Time slowed as the bird flew past. I was awed by its size and studied the pattern of highlight-tinged brown feathers across its wings and back.
It landed on a wall to my left, about 15 feet away. I slowly removed my camera from my pack and, holding my breath, took a few photos.
It looks like it might be the same red-tailed hawk that carried a gopher snake to the top of a light pole here in April 2019.
Update November 16, 2020. I've been encountering an unusual number of red-tailed hawks this Fall, or maybe encountering the same hawk several times. See Another Red-tailed Hawk Encounter for additional photos.
Update August 14, 2020. I've replayed this encounter a number of times, and think I have a plausible explanation. As events unfolded there was a bit of commotion behind me, and after the hawk landed, some cawing off to my right. I suspect the hawk was being chased by a crow, and I was a convenient shield that could be used to break up the chase.
Some related posts: The First Snakes of Spring, Kestrel Encounter, A Raven Story