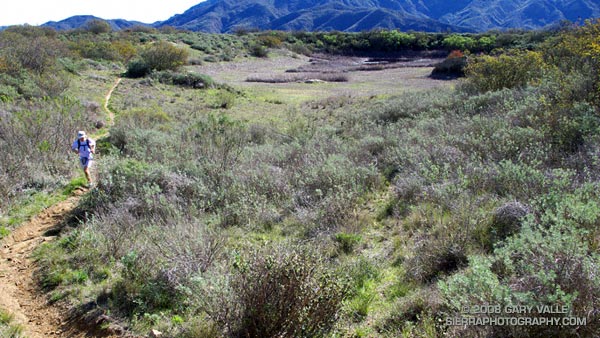 Southern California can have inclement Winter weather. This January downtown Los Angeles experienced a streak with 8 days of measurable rain, and last year temperatures in the suburbs plunged to a frigid 20°F. Maybe this doesn't compare to Seattle's 2005-2006 rain streak of 27 days, or International Falls' recent record low of 40° below zero, but it qualifies as rainy and cold none the less.
Today it was not rainy and cold. It was just about as pleasant as a day could be. Skies were blue, winds were light, and the temperature was in the mid-seventies. Starting at the Wendy Dr. trailhead on Potrero Rd., we enjoyed the perfect weather by doing a 14.5 mile variant of the Boney Mountain Half Marathon Course.
The photograph above is of the Hidden Pond Trail near Hidden Pond — recently restored by Winter rains.
Related posts: Boney Mountain Half Marathon, Big Sycamore Canyon Circuit, Boney Mountain – Big Sycamore Canyon Circuit