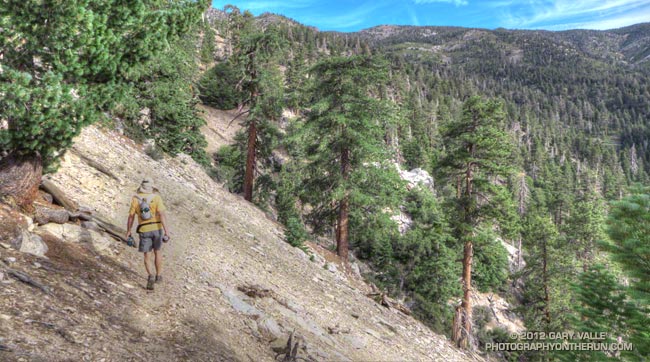 Models didn't show the upper level cutoff low affecting Southern California until Monday or Tuesday at the earliest. But upper level lows tend to be notoriously unpredictable, so I'd been checking the computer weather models and NWS forecasts every day. The NWS forecast for today's run/hike to the summit of San Gorgonio looked pretty good:
"Partly cloudy. Highs 59 to 69 above 6000 feet to 69 to 79 below 6000 feet. Areas of winds west 15 mph in the morning becoming light. Near ridge tops and along desert slopes… Areas of winds southwest 15 mph…Gusts to 25 mph in the morning."
The weather was even better than suggested in the forecast. It was short-sleeves and shorts all the way up to the top and back down. Temps were pleasant and winds light on the 11,503′ summit. (NAVD88 elevation – PeakBagger.com.) It was warmer at the higher elevations and cooler at the lower elevations than last year's run and about as good as it gets for a trail run encompassing an elevation range of 6000 feet.
The title photo is from about 8000'on the Falls Creek Trail — only 3500′ of elevation gain to go! Here are a few more photos:




Falls Creek Trail Near Saxton Camp




Divide Trail Near Jepson Peak

 

Chutes on Jepson Peak




Summit & San Jacinto




Top of San Gorgonio




Starting the descent

Some related posts: San Gorgonio Mountain – Falls Creek Loop 2011, San Gorgonio Mountain – Falls Creek Loop